Coordinator Jim Whittaker knows the 10th-annual Mojo's Spring Fling Criterium cycling series at Clinton Lake has become more than just a destination for competitive bikers.
It also has become a starting point for many who haven't raced before.
"We focus on having a nice, family event that emphasizes youth racing," Whittaker said. "So far, it's been really successful."
Whittaker and his GP Velotek team, made mostly of Kansas City and Lawrence cyclists, emphasize getting youngsters involved in the sport. Of the 100 members in the group, 70 are youths.
"One of my personal focuses is putting kids on bikes," Whittaker said.
Though only about a fourth of the riders in the Saturday's races were under 18, the event continues to be a good beginning place for those wanting to gain experience in cycling.
Blake Albrecht, 13, of Lenexa, recently started cycling after his father took up the sport. Albrecht said the Spring Fling catered to both competitive and noncompetitive bikers.
"It's a great time to have fun, even if you want to take it easy," Albrecht said. "My brother comes out here just to have fun and to ride. He doesn't care about his placing. He just likes to come out."
The Spring Fling series also has been a showcase for youth cyclists who have thrived after years of training.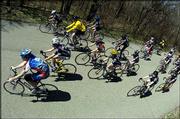 Joseph Schmalz, who started racing at 12, competes on a national level with just three years of experience in the sport.
After traveling to an event last week in California, Schmalz took the title at the Spring Fling junior race Saturday.
"These are great training races and very competitive," Schmalz said. "They're called training races, but really they're pretty intense."
Schmalz said Spring Fling was a great opportunity for kids who might not have much knowledge of competitive events.
"It's all about getting in early and giving kids an experience to know what cycling's all about," Schmalz said.
Whittaker said watching the development of cyclists like Schmalz made his job rewarding.
"It's really cool," Whittaker said. "It makes all the hard work worthwhile."
Copyright 2018 The Lawrence Journal-World. All rights reserved. This material may not be published, broadcast, rewritten or redistributed. We strive to uphold our values for every story published.