Carol Meseraull can't wait. Edward Alsop can't stand it. And Ernie Butell -- well, he just wants the phone calls to stop.
"This would be worth it to me, just so I don't have to take all the flak," said Butell, Wakarusa Township trustee.
The source of all the anticipation, consternation and exasperation? A proposed bond issue -- up for approval Tuesday -- that would raise taxes to help finance an overhaul of gravel roads in the rapidly urbanizing township.
Even as the township's residential valuation has increased nearly 50 percent during the past five years, Butell said, road crews don't have enough money to keep up with rising demands in the growing area. People continue to move into the country and build high-priced homes, even as the city's expansion has taken land off the tax rolls.
Now that Lawrence has expanded its urban growth area to include all but a small sliver of the township's southern edge, he said, the township's property owners need a financial vehicle to drive road upgrades to accommodate the growth.
"Development's coming," Butell said. "There's no way it's going to stop."
He knows such upgrades won't come cheap.
Voters are being asked to increase property taxes in the township by up to 50 percent for four years. The increase would give the township about $350,000 a year, enough to put hard surfaces atop the township's remaining 35 miles of gravel roads.
Down on dust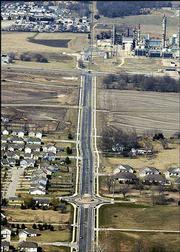 Butell, now in his fifth year as trustee, said the plan would satisfy the demands of an increasingly urban population, as city residents moving into the rural area at the edges of Lawrence continue to fret about dust on their cars, potholes slowing their rides and noises knocking them out of bed.
Count Carol Meseraull among them.
"It's like a washboard out there. There's huge holes in the road," said Meseraull, who lives east of Iowa Street along East 1250 Road, a gravel road that has become a "de facto" South Lawrence Trafficway. "People just fly by, and you feel like the house is shaking. I have to dust in here everyday. It's everything -- the TV, the computers, the dining room table.
"Once the road's paved, you don't have those problems."
Meseraull supports the idea of a bond issue, and hopes that a majority of her fellow 1,564 registered voters in the township do, too.
The plan would add up to 6 mills to the township's current 12-mill tax levy, or enough to cost the owner of a $200,000 home up to another $138 in property taxes each year. A mill is $1 for every $1,000 of a property's assessed valuation.
"I don't know why anyone would contest another $10 a month, or $15 a month to do that," she said.
Voters in Wakarusa Township -- the rural area at the eastern, southern and northwestern edges of Lawrence -- will see this question on their ballots Tuesday:Shall the following be adopted?"Shall Wakarusa Township in Douglas County, Kansas, levy a tax of up to 6 mills for 4 years to raise funds for the improvement of township roads? Such levy, shall be exempt from any tax lid, as spelled out in K.S.A. 79-5021 to 79-5035 and amendments thereto and any subsequent aggregate limit?"If approved, the plan would cost the owner of a $200,000 home up to another $138 a year in property taxes for the next four years.
Alsop knows.
'Taxed at every turn'
The rural resident already lives along a hard-surface road: East 1400 Road, which is the extension of Louisiana Street south of Lawrence. He even "paid a little extra" a few years ago to get that project completed.
Since then he's watched as his home-based occupation -- Edward Alsop Custom Woodworking -- has required him to pay additional fees. Just last year his garage was reassessed to tax the place as a business, not as part of a home, to widen the financial drain.
"My taxes went up $900," he said. "They're nicking me for $1,200 a year."
The bond issue for roads would be too much, he said, even as the area's properties continue to build value as development inches closer.
"I don't like the idea of being taxed at every turn," he said.
Butell knows there are residents and property owners on both sides of the issue, but he offers a few thoughts for anyone heading to the polls:
The township already spends about $5,000 a year to maintain each mile of gravel road.
Homeowners can pay $500 to $600 a year to participate in the annual "dust palliative" program that helps hold down dust on gravel roads in front of their properties.
The costs of both items would be cut should the bond issue pass, Butell said, and the addition of hard-surface roads also would be expected to boost the values of properties.
Butell isn't sure whether the bond issue will pass, but he does know one thing.
"I just wish I would have proposed this four years ago," he said. "We're way behind."
Copyright 2018 The Lawrence Journal-World. All rights reserved. This material may not be published, broadcast, rewritten or redistributed. We strive to uphold our values for every story published.