Vatican City — The crowd of many thousands gathered in St. Peter's Square went suddenly silent when a Vatican official announced Pope John Paul II had died.
Then they started to clap. It is an Italian tradition by which mourners show their appreciation for important figures who have passed away. Many wept as others tried to comfort them.
A group of youths began to sing, "Hallelujah, he will rise again," as one played a guitar. Others recited the rosary; a priest raised a Polish flag partly draped with a black cloth.
Bells tolled at the Vatican and across Rome as flags of the Vatican, Italy and the European Union were lowered to half-staff.
Giulio La Rosa, a 23-year-old student in Rome, burst into tears.
"I'm not a believer, but I came here because I believe in him as a builder of freedom," he said.
About three hours after the death, the crowd again broke into applause for several minutes, and a cleric leading the faithful in prayers shouted from the steps of St. Peter's Basilica: "Viva il Papa!", or "Long live the pope!"
"He was a marvelous man. Now he's no longer suffering," pilgrim Concetta Sposato said tearfully. She had been on her way to St. Peter's to pray when she heard of his death.
"My father died last year. For me, it feels the same," said Elisabetta Pomacalca, a 25-year-old Peruvian who lives in Rome.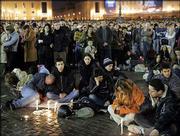 Katie Brennan, a student from the University of Maryland, said she looked around in wonder at the crowd.
"All the different people, from different races and different religions, that are all here for the same reason: to respect the passing of someone who's done a lot for this world," she said.
Simone Bellato, a 22-year-old student, sat cross-legged on the cobblestones smoking a cigarette following the announcement. He was surrounded by a display of offerings with lit candles, prayer cards, rosaries and a bouquet of lilies.
"For once, while the pope was suffering, the whole world prayed together. Catholics, Jews, Muslims, the Orthodox, only he could have done it," Bellato said.
Everywhere candles flickered in St. Peter's Square. A group formed a cross on the cobblestones using small prayer candles. Others melted the candles directly onto the paving stones or placed them on the edge of the fountains and pedestals of streetlights.
Some used their wax to melt letters of affection to the pope onto the pavement, others left behind rose petals and bouquets.
Traffic on the streets leading to the Vatican was brought to a standstill as thousands more people tried to reach St. Peter's Square.
Officials, meanwhile, estimated early Sunday that the crowd in and around St. Peter's had swelled to about 100,000 as people streamed down the boulevard leading to the square.
Earlier in the day, officials had begun preparing for the elaborate rituals marking a pope's death and for accommodating the tens of thousands of pilgrims expected to converge on Rome.
City officials lined up fairground pavilions and sport stadiums to house the faithful, and the Italian state railway said it was adding more trains to bring the faithful direct to Rome.
In John Paul's native Poland, the national carrier LOT said its Rome-bound flights were nearly full for Sunday and Monday, and that every second or third call was from someone looking to book a flight to Rome.
Copyright 2018 The Associated Press. All rights reserved. This material may not be published, broadcast, rewritten or redistributed. We strive to uphold our values for every story published.