Kansas University student Tim Wurtz was out for a jog Saturday afternoon when he heard the announcement over a car radio on the street -- it was official: Pope John Paul II had died.
Wurtz's instinct was to pay his respects as soon as he could, which meant jogging to St. John the Evangelist Catholic Church, 1229 Vt.
"I went to the first Catholic church I could get to," said Wurtz, who spent several minutes in silent prayer in St. John's pews. "I just said all the prayers I could remember from Catholic school."
Wurtz was just one of many Lawrence residents who streamed into Catholic sanctuaries Saturday afternoon to pay their respects to the late pontiff.
Shortly after learning of the pope's death, Steve and Maria Rosas shared a quiet moment in the chapel of Corpus Christi Catholic Church, 6001 Bob Billings Parkway, where a portrait of John Paul II stood at the foot of the altar.
"I'm happy that he's finally at rest," Steve Rosas said, "but I'm also sad that he's gone for us."
Regularly scheduled Saturday Masses became tributes to the deceased pope. Catholics walked past a Vatican flag flying at half-staff as they entered the St. Lawrence Campus Catholic Center, 1631 Crescent Road, for a "Mass for the Dead" in honor of the pope.
"We begin today with the words 'Do not be afraid,' " Father James Sanchez told the dozens of Catholics who attended the special service, "because those were the words John Paul first used as pope."
News of the pope's passing was particularly difficult for Monsignor Vince Krische of St. Lawrence, the highest ranking Catholic in Lawrence, who had a private audience with the pope last November.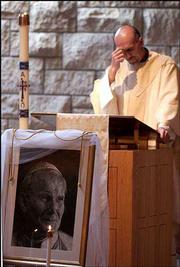 "It's a feeling that it's finally real," Krische said a few hours after the Vatican made the official announcement of the pope's death.
"I remember that I was in there," Krische said, glancing over his shoulder at the main building of the campus center, "when I heard that he had been elected. I remember thinking, 'Thank goodness, we have a pope.' And I was just across the street when I heard the news today."
Krische said he would remember the pope for his diplomacy and outreach to the world through travel.
"The influence he would have on the crowds was amazing," Krische said. "These big crowds would just wait and wait to see him."
Krische said the cardinals have a substantial task ahead of them in matching the qualities of a new pope with the realities of current international politics. In particular, he said, the next pope will face the challenge of opening and maintaining a dialogue with the Islamic world.
"The world is a different place now than when Pope John Paul (II) was elected," Krische said.
St. Lawrence will host several events during the nine-day period of mourning that Catholics will observe for John Paul II.
In Washington, Republican Sen. Sam Brownback, a convert to Catholicism, referred to the pope by his birth name, Karol Wojtyla, in a statement issued Saturday afternoon.
"The Holy Father has a very deep and personal effect on my faith, and I mourn his loss," Brownback said. "But this is also a joyous moment, as Karol is now with God, and God has now welcomed home one of his greatest modern saints."
Brownback also cited the pope's appeal to non-Catholics and his stature as a world leader who spoke on social as well as spiritual issues.
"Pope John Paul was a rare soul who knew the nature of good and evil in the world and stood up at a unique point in history and fought against the concentrated evil of Nazism and communism," Brownback said. "He also saw a cultural springtime when others did not and fought against the culture of death, which has changed the way we debate life issues around the world. Pope John Paul II was a leader and an example to us all that transcended faith or politics, and he will be very much missed."
-- The Associated Press contributed to this report.
Copyright 2018 The Lawrence Journal-World. All rights reserved. This material may not be published, broadcast, rewritten or redistributed. We strive to uphold our values for every story published.