Peoria, Ill. — Services for William F. "Bill" Higgins, 87, Peoria, will be at 10:30 a.m. Monday at St. Mark's Catholic Church in Peoria. Entombment will be in Resurrection Mausoleum.
Mr. Higgins died Thursday, March 31, 2005, at OSF St. Francis Medical Center in Peoria.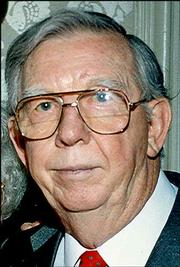 He was born April 20, 1917, in Farmington, Ill., the son of Patrick and Margaret "Maggie" Mahoney Higgins.
Mr. Higgins served in the U.S. Army Air Corps during World War II from 1941 to 1946. He was a factory accountant and timekeeper at Caterpillar, Inc., for 40 years and retired in 1980. He was previously a mail carrier in Farmington. He was a member of St. Mark's Catholic Church and its Men's Club, St. Vincent de Paul Society, a past president of St. Vincent de Paul Society Store Board and Conference, a member of Caterpillar Time Keepers Club and St. Mark's Dartball Team, all in Peoria.
He married Winifred "Winnie" Brown on Feb. 27, 1946, in Peoria. She died Feb. 23, 2005.
Survivors include three daughters, Mary Lee Hummert, Lawrence, Kan., Margaret "Peggy" Higgins and Nancy Higgins, both of Peoria; and five grandchildren.
The family will receive friends from 4 p.m. to 6 p.m. with a rosary said at 5:45 p.m. Sunday at Wright and Salmon Mortuary in Peoria. The family will also receive friends from 10 a.m. to 10:30 a.m. Monday at the church before the services.
The family suggests memorials to the donor's choice, St. Vincent de Paul Society or St. Matthew's Church in Farmington, sent in care of the mortuary, 2416 N. North St., Peoria, IL 61604.
Copyright 2018 The Lawrence Journal-World. All rights reserved. This material may not be published, broadcast, rewritten or redistributed. We strive to uphold our values for every story published.