Wearing a white T-shirt and baggy blue Kansas University basketball shorts, Alex Galindo sauntered down a hallway leading to an Allen Fieldhouse training room on Friday afternoon, a cell phone stuck to his ear.
Whether Galindo, the Jayhawks' 6-foot-7 freshman guard/forward from Mayaguez, Puerto Rico, will be wearing KU gear and using the Jayhawk basketball facilities much longer remains to be seen.
Galindo confirmed rumors Friday he was pondering a transfer.
"Coach and I have met a couple of times since the season ended. We plan on meeting again once he gets back from the Final Four. There's a lot of stuff to think about and talk about when he gets back from St. Louis," Galindo said.
Galindo averaged 4.1 points and 10.0 minutes a game while playing in 23 of KU's 30 games. He made 41.9 percent of his shots while cashing 17 of 44 threes.
"I really don't know," Galindo stated, asked if he will be leaving. "My decision will be made after the next meeting. Hopefully, we can work things out, and I'll stay. If not, it has to be whatever God has for me."
Galindo, who gave no reasons for a possible move, was considering playing closer to home, KU coach Bill Self indicated. Galindo played his high school ball at St. Benedict's High in Newark, N.J., and seriously considered Rutgers and Pitt after asking out of his Texas-El Paso letter of intent.
"I think there's a chance in his thinking he'd like to get closer to home. At least, that's what he's told us," Self said, adding, "I think it's still up in the air.
"The fact of the matter is, Alex and I have visited about this, and we are going to come to a definite answer when I get back from the Final Four. There is certainly a possibility he could transfer and also a possibility he could stay. He has been very open and upfront."
Self said there would be an announcement either way early next week.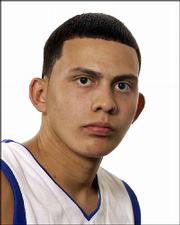 "We're at the point, to be real candid, we're not going to beg anybody to stay," Self said. "Certainly, if this is a great fit for him, he needs to make the decision to remain. If it's not a great fit, then everybody deserves to be happy. We'll just have to wait and see on that."
Asked if distance from home was a factor, Galindo said, "I'm just thinking about a lot of things."
Was he frustrated by the fact he was hobbled by a groin pull much of the season?
"No, not really," Galindo said. "It's part of basketball. Stuff happens. I had a good time. It was a learning experience. Right now, I just don't know. It's just a personal decision. I don't want to make it bigger than it is. It's just the way I feel now. Hopefully, my feeling changes when I talk to coach the next time."
Of her son's freshman year, Galindo's mom, Socorro, said Friday: "I think he's done quite well. It's my opinion as a parent, academically and basketball-wise, Kansas has treated him well."
Asked if he'd be leaving, she said: "I can't answer that. You will have to ask him."
Niang solid: Tracked down by an Kansas City 810 radio reporter in St. Louis, Self discounted a rumor that Moulaye Niang had been booted off the team.
"I've heard some rumors before, but that's maybe the most ridiculous I've ever heard," Self said. "Mou has done about as much or everything he can for himself and the program, being a good citizen. I know he's had a bad back that's slowed him a little bit. He's working out with the guys now and doing everything he's supposed to be doing."
Self has said Russell Robinson, another rumored transfer, would be back. J.R. Giddens has said emphatically he would not test the NBA waters and would return.
Thus, it appears Galindo is the only player on the roster pondering an exit.
KU is still recruiting DeAndre Thomas, a 6-6 1/2, 270-pound senior forward from Chicago Westinghouse, who has said planned to visit KU next weekend. He also is considering Illinois, Florida State and Georgetown.
¢
Simien honor coming: KU senior Wayne Simien today is expected to be named winner of the Bayer Advantage Senior CLASS Award, to be presented on CBS between Final Four games.
"CLASS" stands for "Celebrating Loyalty and Achievement of Staying in School."
He was a runaway winner in the fan balloting, notching 27 percent of the vote compared to Taylor Coppenrath (15 percent), and John Lucas and Joey Graham (10 percent each)."
Kansas State's Kendra Wecker, a runaway in the women's fan voting, is leading candidate to take the female CLASS award. Winners will be honored at a banquet April 30 in Kansas City.
Copyright 2018 The Lawrence Journal-World. All rights reserved. This material may not be published, broadcast, rewritten or redistributed. We strive to uphold our values for every story published.