Harare, Zimbabwe — President Robert Mugabe's political party clinched a parliamentary majority Friday, but the opposition said the vote was stolen and urged Zimbabweans to protest the outcome.
Mugabe, one of Africa's longest serving leaders and the last on the continent who has ruled his country since the departure of a colonial power, had hoped Thursday's poll would give a stamp of legitimacy to his increasingly isolated and autocratic regime. But Western diplomats and independent rights groups said it was skewed by Mugabe's long history of violence.
U.S. Secretary of State Condoleezza Rice said the election was neither free nor fair, charging the "playing field was heavily tilted in the government's favor."
Mugabe's Zimbabwe African National Union-Patriotic Front won 69 of Parliament's 120 elected seats, compared with 35 for the main opposition Movement for Democratic Change and one to an independent candidate, according to partial results announced Friday by the national election commission.
Mugabe appoints an additional 30 seats. With one more seat, Mugabe would have the two-thirds majority he has been seeking to change the constitution. The opposition may not even match its showing of 57 seats won during the last vote, in 2000.
"The government has fraudulently, once again, betrayed the people," opposition leader Morgan Tsvangirai said. "We believe the people of Zimbabwe must defend their vote and their right to free and fair elections."
As an example of irregularities, Tsvangirai cited the race in Manyame, 25 miles southwest of Harare, where Mugabe's nephew was declared the winner.
Election officials announced Thursday night that 14,812 people voted in that constituency. But early Friday, they changed the total to 24,000 and said Mugabe's nephew received more than 15,000 votes.
Opposition leaders will meet today to decide their next step. Tsvangirai's party has shied from confrontation after past street protests were violently crushed. His party has preferred to fight its battles in the courtroom, but the courts are now packed with judges sympathetic to Mugabe.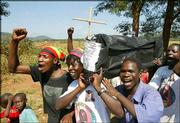 Under international pressure to produce a credible result, Mugabe's security forces and supporters ratcheted down violence in the last weeks of campaigning and on election day.
But local and international rights groups, the United States and European Union said five years of brutality already had tilted the electoral playing field in favor of Mugabe's party.
"The United States calls on the government of Zimbabwe to recognize the legitimacy of the opposition and abandon policies designed to repress, crush and otherwise stifle expressions of differences," Rice said in her statement.
The London-based rights group Amnesty International decried the arrest of some 250 women who tried to hold a prayer vigil in downtown Harare shortly before the polls closed. Some were beaten and severely injured before they were released, Amnesty officials said.
Mugabe rejected complaints about the election as "nonsense," saying Thursday that no other country had polls as free as this one.
Copyright 2018 The Associated Press. All rights reserved. This material may not be published, broadcast, rewritten or redistributed. We strive to uphold our values for every story published.