For the first time since its inception in 2000, the Theologian in Residence Program will be bringing a scholar of Islamic studies to Kansas University and the Lawrence community.
Yvonne Y. Haddad, professor of the history of Islam and Christian-Muslim relations at the Center for Muslim-Christian Understanding at Georgetown University, will be featured April 9-12 as the 2005 Theologian in Residence.
"Given the reality of the world today after 9-11, and the war in Iraq, we feel a heightened need for understanding and dialogue between Christians and people of Islamic faith," said the Rev. Peter Luckey, co-chair of the program and senior pastor of Plymouth Congregational Church, 925 Vt..
"We try to really take turns in terms of balancing gender, scholars and theologians of different faiths. Last year we had (New Testament scholar) John Dominic Crossan, and we felt it was time to have someone speaking on Islam."
The other co-chair of the Theologian in Residence Program is Barry Crawford, professor of religion at Washburn University.
The annual program is sponsored by a consortium of campus ministries at KU, Lawrence congregations, KU's religious studies department and the philosophy departments at Baker and Washburn Universities.
The goal of the annual event is to bring together the academic and faith communities with acclaimed speakers to address topics of religion.
In 2003, the program brought to Lawrence Amy-Jill Levine, a professor at Vanderbilt University Divinity School/graduate department of religion.
Other high-profile scholars who have participated in the Theologian in Residence Program are Marcus Borg, a best-selling author of many religion books, and Jonathan Z. Smith, a historian of religions at the University of Chicago.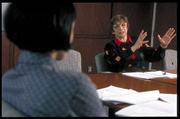 During Haddad's visit to Lawrence, the public will have the opportunity to meet and hear her speak at several special events at Plymouth and on KU's campus.
She will give her keynote speech, "The Search for a Moderate Islam: The Debate on Muslim Identity in the U.S.," at 7:30 p.m. April 11 at Woodruff Auditorium in the Kansas Union.
Efforts at 'religion building'
In a telephone interview Wednesday from her office at Georgetown, Haddad said she would talk in her keynote speech about American efforts to encourage a moderate Islam, both domestically and abroad.
She pointed to a study done by Cheryl Bernard, a senior political scientist working for the Rand Corp., which conducts independent research on important global issues.
"In the study, the author suggests how the United States can go into religion building -- you know, we're not into nation building, but in religion building -- and how we're going to construct a new Islam. So I'm going to talk about how Muslims have reacted to this, and how they have reacted to American policy," Haddad said.
The American government is involved in funding the formation of progressive Muslim groups under a new, moderate leadership, according to Haddad.
"So I'm going to talk about the various efforts used to create what would be acceptable to Americans as Islam. The question is, 'What kind of Islam will America be willing to live with?'"
Haddad said she had doubts about the success of these efforts.
"According to this document that I'm talking about -- the Rand study, and there have been some others -- it's sort of a de-fanged Islam, but it's one that has no impact on public policy and no impact on social issues," she said.
"President Bush is not Prophet Mohammed, right? He's not the new Messiah. So they're (Muslims) not going to take it from him. Of course I'm skeptical."
Depiction of Muslims
One of the Haddad's areas of expertise is women in Islam, and that's a topic she plans to address during a two-day workshop April 9-10 at Plymouth.
"I'm going to show some videos of how Muslim women are depicted in movies, as belly dancers and exotic, the women are (viewed) from behind screens. Now, they are more depicted as being oppressed by their husbands, and the veil is seen as sort of an instrument of oppression," she said.
The movie industry has not been kind to Muslims, according to Haddad.
Nor have some media outlets -- and that's hurting the standing of the United States abroad.
"Fox News is actually countering all the efforts of the American government. We're spending hundreds of millions of dollars on winning the hearts and minds of Muslims," she said.
"At the same time, they can view MSNBC and Fox News on satellite dishes all over the world where we bash them every day, where there are very anti-Muslim programs."
Copyright 2018 The Lawrence Journal-World. All rights reserved. This material may not be published, broadcast, rewritten or redistributed. We strive to uphold our values for every story published.