Orlando, Fla. — Shannon Smowton's trip to the fair should have ended with happy memories of carnival rides and cute farm animals. Instead, the 5-year-old is clinging to life, her kidneys under attack from the E. coli infection she apparently caught at the fair.
Shannon is among at least 22 people, almost all children, who fell seriously ill after visiting one of three fairs in Florida in the past two months. State health officials are investigating 35 more cases.
At the Central Florida Fair in Orlando, the Florida Strawberry Festival in Plant City and the Florida State Fair in Tampa, the victims may have had different things to eat and drink, but almost all of them touched the chicks, sheep, goats and calves in the petting zoos.
"I wasn't thinking E. coli, but I certainly didn't want them eating fair food, so I thought popcorn and ice cream would be safe," said Shannon's mother, Kathie Smowton. "I tried to avoid the hot dogs and corn dogs. But who would've thought the animals ...?"
If officials confirm the outbreak began in the zoos, where animals' feces can carry the potentially lethal bacteria, this would be the latest episode in what appears to be a growing threat to public health.
"It seems to be an increasing phenomenon," said Jeff Bender, an assistant professor of veterinary public health at the University of Minnesota. "As a result, we need to get some recommendations or guidelines out there."
According to the experts, people who visit petting zoos must take safety into their own hands -- literally. Toddlers often will pet a sheep or goat, then stick his fingers in his mouth.
"The single most important thing in prevention is handwashing," Bender said. He added that only handwashing with soap and water or a sanitizing gel will work.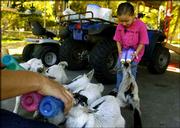 One of the nation's first large outbreaks came in the fall of 2000, when E. coli at a suburban Philadelphia petting farm infected 16 children. Health officials suspected an additional 45 probable cases.
Outbreaks at county fairs in Ohio and Wisconsin sickened 84 in the summer of 2001. In August 2002, 82 people, mostly children, fell ill after attending a county fair in Oregon.
Shannon Smowton might not leave the hospital for another month. Since entering intensive care two weeks ago, she has had periods of unresponsiveness and hallucinations.
"I talked with the other mother we went to the fair with, and she was crying and saying, 'I wish I had never asked you to come,'" Kathie Smowton said.
Copyright 2018 The Associated Press. All rights reserved. This material may not be published, broadcast, rewritten or redistributed. We strive to uphold our values for every story published.