Mexico City — Crawling on their knees and bowing their heads, millions of faithful around the world appealed Friday for the recovery -- or the eternal rest -- of a man who transcended the Roman Catholic Church's highest office.
At shrines, churches and cathedrals, special Masses celebrated Pope John Paul II both for his youthful vigor that transformed the church and for his recent courage in confronting death. Protestants, Muslims, Jews and even atheists praised a man whose work for peace and unity made few religious distinctions.
"There will be another pope, but it won't be the same," said a tearful Jesus Valencia, 29, who attributed his recovery from a childhood infection to a bedside visit from John Paul in 1979. "He has a spark that makes him very special."
Valencia was among hundreds of faithful who advanced on their knees into the Basilica of Guadalupe, where the pope canonized the first Indian saint, Juan Diego, in 2002. Many wept and grimaced in pain as they inched forward on the cobblestones, clutching votive candles bearing John Paul's image.
Other scenes of devotion came in a tiny cloister on the Lofoten Islands off northeastern Norway, where the three monks were intent in prayer. In Lima, Peru, where a marching band offered solemn music as hundreds filed into a special Mass. In Poznan, Poland, where officials halted a soccer game before halftime after the crowd, hearing news of the pope's rapid decline, chanted: "Stop the match!"
"He is a person who didn't see color or race," Elvia Medina, 57, said at a church in Houston. "For him, we were all equal."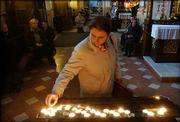 The first non-Italian pope in centuries, John Paul had a manner that made people around the world think of him as their own. Mexicans chanted during his five visits: "Juan Pablo, brother, you are already Mexican!" Brazilians reacted with delight when John Paul declared himself "carioca," a term for people from Rio de Janeiro. Cardinal Theodore McCarrick of Washington said Friday that "in a certain sense, he was American."
In Wadowice, Poland -- Karol Wojtyla's true hometown -- people abandoned school and work to pray when the pope's condition turned critical. Wadowice is "on its knees," the Rev. Jakub Gil told parishioners.
"He gave people hope, strength and faith in freedom. Every Pole is proud of him," said ship mechanic Janusz Kaniewski, 42, who cut off a ski vacation to pray for the pope.
Even non-Catholics embraced John Paul, crediting him for ending wars, spreading democracy and combating religious animosity.
"This is a person who dedicated his life to teaching all of us that we have a fundamental obligation to respect one another just because we are the children of God," said Michael Schudrich, an American who serves as Poland's chief rabbi.
Added Flavien Kiope, a teacher at a Catholic school in Kinshasa, Congo: "He is the first pope to have brought together Muslims, Hindus and worshippers of other religions."
John Paul transformed the papacy from an arbiter of religious doctrine to a global advocate for peace, understanding and responsibility.
"He's been a moral voice, and in that sense I think the papacy and what it represents has an even more significant role in the world than it ever had before," Cardinal Cormac Murphy-O'Connor, the archbishop of Westminster, said in London.
Havana (ap) -- In a rare appearance on state TV, Cuba's top Catholic leader informed the communist country of Pope John Paul II's health problems Friday, paying tribute to a leader he called a "moral reference for humanity."For many, Cardinal Jaime Ortega's comments were their first word of the serious downturn in the pontiff's health. Most Cubans only receive local television stations, with little access to international news outlets.Ortega praised the pope for coming to Cuba in 1998, calling the visit "unforgettable." He said the pope also spoke his mind about differences of opinion with Cuban President Fidel Castro, calling for openings in the island's political system. John Paul also urged the world to reach out to Cuba.
Copyright 2018 The Associated Press. All rights reserved. This material may not be published, broadcast, rewritten or redistributed. We strive to uphold our values for every story published.