Pope John Paul II has named nearly every cardinal who will elect his successor, but that does not mean the next pontiff will be just like him.
The world's cardinals hold diverse and often conflicting views about what are the most pressing issues for the Roman Catholic Church and will likely seek out a leader with different qualities than John Paul's.
"The cardinals, when they come in the conclave, they follow their conscience and they see what's useful for the church today," said Belgian Cardinal Godfried Danneels, in a recent interview with The Associated Press. "There is not that kind of nepotism in the church -- 'I appointed all the cardinals so there will be exactly my copy.' No. We are a bit more intelligent than that."
Among the cardinals mentioned as potential future popes are Cardinal Joseph Ratzinger, a German who is the Vatican's doctrinal watchdog; Brazilian Cardinal Claudio Hummes; and Cardinal Oscar Andres Rodriguez Maradiaga of Honduras. Others also considered possible successors to John Paul include Cardinal Francis Arinze, a Vatican-based Nigerian; Cardinal Christoph Schoenborn of Austria and Cardinal Dionigi Tettamanzi of Italy.
The next pope will confront a range of challenges, including scientific advances that conflict with Catholic teaching, the decline of religious observance in Europe and North America, an explosion in church membership in the Third World and a dwindling number of priests in the West.
He will be taking over at a time of sometimes deadly interfaith tensions, and during a period of enormous global unrest, as world leaders confront terrorism in ways the church does not always condone.
Yet, when the cardinals decide who among them can handle these issues, some of their concerns may seem mundane.
After a quarter-century of John Paul's strong personality and hands-on management style, some want Vatican officials to stay out of the day-to-day operations of dioceses. Others believe officials in Rome should stay deeply involved to crack down on dissent.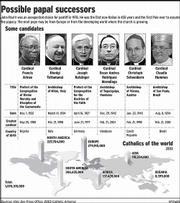 Some church leaders believe cardinals and bishops should have more say in church governance, while others think that power should remain mostly with the pope.
In simple terms, the new pope could be the kind of boss the cardinals want for themselves.
They also will look for a man with a strong command of English and Italian, to communicate with the world's Catholics and with church officials in charge of the day-to-day operations of the Vatican.
Age may also be a factor. John Paul's papacy of 26 years has been one of the longest in church history, and the cardinals may back an older candidate as a "transitional pope" -- someone whose tenure may not be quite so long.
"Most cardinals don't think a really long papacy will be a good idea," said James Hitchcock, a historian and church expert at Saint Louis University. "But with modern medicine if they elect a man who is 70, he could live until he was 95."
Geography also will influence the vote. John Paul was the first non-Italian pope in 455 years. Vatican observers disagree over whether there will be pressure in the conclave to return the papacy to an Italian, or whether they will want to send a signal to the burgeoning ranks of Catholics in the Third World by choosing an African or Latin American candidate.
"This is one of the real dividing lines they're going to have to consider," said David Gibson, a former Vatican Radio newsman and author of "The Coming Catholic Church."
"If they just go back to an elderly Italian, it will be a kind of letdown from the intensity of this papacy. Or they may say, 'Look, let's keep this interest going, we went behind the Iron Curtain last time, let's go to Latin America this time.'"
Although there are many unknowns going into a conclave, church experts agree on at least one thing: There is almost no chance the next pope will be an American. The cardinals will not want to give the impression that the church is in the hands of the world's lone superpower.
Danneels noted another reason that the next pope will not be a carbon copy of John Paul: There is no one exactly like him in the College of Cardinals.
"My impression with the pope is he combines two qualities that you rarely find together in one person," Danneels said. "He's a leader. ... At the same time, he's a very warm person."
Copyright 2018 The Associated Press. All rights reserved. This material may not be published, broadcast, rewritten or redistributed. We strive to uphold our values for every story published.