AUBURN HILLS, MICH. — The undermanned Los Angeles Clippers could do little more than watch as the Detroit Pistons celebrated coach Larry Brown's return to the bench by securing a playoff berth.
Tayshaun Prince scored 23 points in Brown's first game back in three weeks, and Detroit beat the Clippers, 97-84, Friday night. The victory, combined with Orlando's loss to the Washington Wizards, was enough for the Pistons to clinch a playoff berth for the fourth straight season.
"We got the win, and the way things are going, that's a good thing," Brown said. "The Clippers played pretty darn good without a lot of their guys."
Brown was back on the bench after missing 10 games because of complications from surgery in early March related to his hip surgery in November. Detroit went 6-4 with Gar Heard directing the team in place of Brown.
"It was great to have him back," Chauncey Billups said.
Suns 107, Timberwolves 98
Phoenix -- Steve Nash scored 12 of his 28 points in the last nine minutes, and Phoenix snapped Minnesota's five-game winning streak.
Warriors 108, Jazz 91
Salt Lake City -- Derek Fisher scored 19 points, and Golden State won in Utah for the first time in more than 10 years.
Hornets 76, Rockets 73
Houston -- Lee Nailon came off the bench to score 16 points, and fellow reserve Dan Dickau added 14, helping New Orleans rally from an 18-point second-half deficit.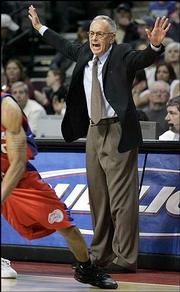 Grizzlies 93, Bucks 82
Milwaukee -- Pau Gasol scored 20 points to help Memphis snap a three-game losing streak.
Nets 93, Knicks 91
New York -- Vince Carter scored 31 points, and New Jersey moved within a half-game of eighth place in the Eastern Conference -- the cutoff for a postseason berth.
Kings 128, Cavaliers 109
Cleveland -- Peja Stojakovic, Cuttino Mobley and Mike Bibby each scored 22 points, and Sacramento held off a late Cleveland run.
Celtics 116, Hawks 100
Atlanta -- Boston raced to a 30-point lead in the first half and then held on to end its four-game losing streak.
Wizards 111, Magic 102
Orlando, Fla. -- Gilbert Arenas scored 31 points, and Larry Hughes added 30 for Washington, which withstood a furious fourth-quarter rally to beat Orlando.
Nuggets 102, Spurs 84
Denver -- Marcus Camby had 15 points, 10 rebounds, eight blocks and five assists to help Denver beat San Antonio for its 16th victory in 18 games.
Sonics 89, Blazers 87
Seattle -- Ray Allen scored 19 points, and Damien Wilkins added 17 in place of injured All-Star Rashard Lewis, leading Seattle over Portland.
Mavericks 100, 76ers 83
Philadelphia -- Dirk Nowitzki scored 29 points, going 14-for-14 from the foul line, and former Philadelphia player Keith Van Horn added 15 points to help Dallas rout the 76ers and clinch a playoff spot.
Raptors 119, Bobcats 107
Charlotte, N.C. -- Chris Bosh scored 27 points, and Jalen Rose had 23 to lead Toronto over Charlotte.
Copyright 2018 The Associated Press. All rights reserved. This material may not be published, broadcast, rewritten or redistributed. We strive to uphold our values for every story published.