If ever a college sports program needed a shining light, it was Baylor University. The further the Lady Bears go in the NCAA Tournament, the brighter things look in Waco, Texas.
Consider all the tragedy, trouble and tumult Baylor sports has been through: Miserable football teams; the men's basketball tragedy two summers ago when a player was killed, allegedly by a teammate, leading to an investigation that uncovered yet another scandal.
While there has been some healing for the world's largest Baptist university since then, nothing has provided the boost created by the Lady Bears making the NCAA Final Four.
"This has taken us one step further beyond the tragedy," athletic director Ian McCaw said.
Adds Grant Teaff, Baylor's football coach during the program's heyday: "This is a catalyst that can pull people strongly together again in support of something extremely positive. ... Athletics are the window through which the world looks at your university. Right now, the view is pretty good."
There have been other feel-good stories lately from the Waco campus, about 100 miles south of Dallas.
The school's baseball, softball and women's tennis teams all are nationally ranked this spring. The men's tennis team won the school's first NCAA championship last spring.
Last summer, Baylor track stars Jeremy Wariner and Darold Williams won gold medals at the Olympics.
Even the football team, which had won just five of its previous 68 Big 12 Conference games, stunned Texas A&M; at home last October.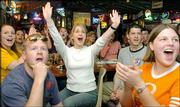 Still, all that pales in comparison to the Lady Bears (31-3) capping a season full of positives by making the Final Four, putting them two wins from a national championship.
They go into Sunday night's game against LSU with an 18-game winning streak. They've earned their first Big 12 regular season and tournament titles -- five years after coach Kim Mulkey-Robertson took over a program coming off a seven-win season and had never been to the NCAA Tournament.
"It helps magnify the other success programs have had," men's basketball coach Scott Drew said. "It's a platform to talk about other success as well. As we all know, people watch TV and read newspapers. The more positive publicity people see, the better."
Drew was hired after the death of player Patrick Dennehy, who had been missing for six weeks before his body was found in a field a few miles from campus in July 2003. Former player Carlton Dotson goes on trial for the slaying this summer.
Basketball coach Dave Bliss and athletic director Tom Stanton resigned after serious NCAA violations were revealed. The school also levied stiff sanctions on itself and relaxed transfer rules, letting its top three scorers switch schools. They were last in the Big 12 this season.
Drew is hoping the excitement generated by the women will help his squad, too.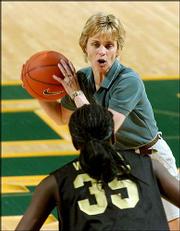 "Hopefully events like this again show the positiveness of Baylor University and all the good things happening," he said.
Mulkey-Robertson insists that she addressed her team about the men's tragedy only once before last season. She challenged the Lady Bears to give Baylor fans something to rally around.
"It's not like we got motivated by it, or used it as motivation in the locker room," she said. "I just felt like we needed to take the focus off the tragedy as best we could and win basketball games."
The Lady Bears went 26-9 last season and made it to the NCAA round of 16 for the first time, so this season is no fluke.
"The girls took on the theme last year they were the shining light of Baylor. They've taken that to a new level this year," said Steve Smith of the Waco Chamber of Commerce. "Time heals, but when you add an event like this, it just really separates the two events and helps you forget the past.
"It's a public relations dream come true. ... When you get a feel-good story like this, it's fun for everybody."
The kind of story that has been rare in Waco since 1974, when Teaff -- who coached for 21 seasons (1972-92) -- watched his team overcome an 0-2 start to win its first Southwest Conference title in 50 years. The Bears then made their first Cotton Bowl appearance.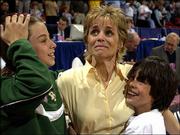 Or in 1948 and '50 when the men's basketball team made the Final Four in the NCAA Tournament's infancy.
"I can't think of anything that's felt like a breath of fresh air more than to see our girls play themselves legitimately into the Final Four," said Steve Sadler, a Baylor religion professor.
"It's hard to describe. Everything we went through two summers ago, it's just the opposite. It's made us proud."
Copyright 2018 The Associated Press. All rights reserved. This material may not be published, broadcast, rewritten or redistributed. We strive to uphold our values for every story published.