Surprise, Ariz. — Ryan Drese, the Texas Rangers' opening-day starter, threw five scoreless innings Thursday to help the Rangers defeat the Kansas City Royals, 3-0.
Drese, who was the last Rangers' player cut in 2004 and began the season with Triple-A Oklahoma, held the Royals to four singles, walked one and struck out four in his final tune up. He went 3-0 with a 1.50 ERA in four spring training starts.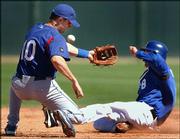 "Obviously, this is a lot more exciting than last year," Drese said. "The big thing now is to get off to a good start Tuesday."
Drese went 14-10 with a 4.20 ERA last season after the Rangers recalled him.
"I had a good sinker working today and I threw a few cutters," Drese said. "And I had a good wind to work with."
The wind was swirling in at gusts up to 25 mph at Surprise Stadium.
"I'd like to save that outing," Rangers manager Buck Showalter said. "I don't care how the wind was blowing."
Royals starter Zack Greinke went seven innings and allowed three runs -- two earned -- on six hits and one walk, while striking out three.
"He looked good," Royals manager Tony Pena said. "His command was there. He worked both sides of the plate."
Greinke will start the Royals' third game of the season on April 7 at Detroit.
Hank Blalock singled in the third and eventually scored on Mark Teixeira's sacrifice fly, then scored again in the sixth for a 2-0 lead on Michael Young's two-out double.
After Richard Hidalgo led off the seventh with a double, pinch-runner Andres Torres scored on Kevin Mench's single.
Royals rookie Mark Teahen flied out with the bases loaded to end the sixth and eighth innings.
Notes: The Rangers won four of five games against the Royals. ... Kansas City LHP Chris George and RHP Dennis Tankersley cleared waivers and the team outrighted both pitchers to Triple-A Omaha.
Copyright 2018 The Associated Press. All rights reserved. This material may not be published, broadcast, rewritten or redistributed. We strive to uphold our values for every story published.