Alan Bowes is asking community members to think about the issue that has been on his mind the past 10 years as executive director of Lawrence's Tenants to Homeowners.
"I would ask people to imagine what it would be like to want to own a home and work hard to own a home and still not be able to afford to do so," Bowes said. "It is very frustrating."
Soon it will be up to someone else to think about that issue. Bowes, the first full-time director for the home ownership organization, is leaving his post to take a position with a nonprofit agency in Medford, Ore. Tenants to Homeowners is hosting an open house to say goodbye to Bowes this afternoon.
"It was purely personal," Bowes said of his decision to leave the organization. "I'm not mad at anyone, and, as far as I know, no one is mad at me."
But Bowes said he believed whoever took over for him would have a tougher job than he did. He said it appeared likely the Bush administration would cut Community Development Block Grant money and other funding, which has been a major part of the city's affordable housing programs. To Bowes, that means local tax dollars are going to become more critical.
"It is going to take a very strong commitment from the community," Bowes said. "In the past, the public hasn't minded because it has all pretty much been federal dollars. That will change. The public will have to decide whether they want moderate income people living here.
"Everybody says Lawrence is such a special place. They're going to have to prove that."
Rebecca Buford, the organization's assistant director, has been named the interim executive director. She said she was applying for the full-time position. Buford said the organization couldn't afford to take a break during the transition period.
"We want everybody to know that we won't be slowing down," Buford said.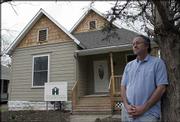 She said the organization needed to continue work on growing its land trust concept. The group at the open house today will be showing off its first home, 1108 Conn., that will be sold using the land trust concept.
The concept centers around the fact that the nonprofit organization will continue to own the land that the house sits on, but the home buyer will own the house and all the structures on the land.
Buford said the two-bedroom, Bungalow-style home would be sold for $90,000 to $100,000. She estimates that its fair market value is closer to $130,000.
But the program, which is open only to low-to-moderate income residents, places restrictions on how much the home can be resold for. Specifically, the Lawrence program would allow homeowners to sell the house only for the price of the original mortgage plus 25 percent of the home's increase in appraised value.
For example, if the $100,000 home on Connecticut Street increased in value to $125,000, the maximum amount the home could sell for would be $106,250. The home also would have to be sold to another low-to-moderate income resident who would agree to abide by the same restrictions.
Lawrence's Tenants to Homeowners organization will host an open house from 3 p.m. to 6 p.m. today at 1108 Conn.The open house will show off the organization's recently completed affordable housing project and give community members a chance to say goodbye to departing executive director Alan Bowes.
"This way it remains affordable for people, buyer after buyer after buyer," Buford said.
Bowes said he absolutely believed the program was an approach the city should get behind. He said city funding likely would be needed for the program to grow to a substantial size. The city already has agreed to incorporate the land trust concept into the first-time home buyer programs it administers. At current funding levels, that would inject about $250,000 into the land trust.
But officials with Tenants to Homeowners also are seeking to receive much of the $500,000 that is in the city's Housing Trust Fund. Members of the Housing Trust Fund Board are seeking requests from other organizations on possible uses for the money and likely will make a decision in May.
In his new position, Bowes will be an executive with the Klamath Basin Rangeland Trust, a nonprofit agency that deals with water issues in the Northwest.
Copyright 2018 The Lawrence Journal-World. All rights reserved. This material may not be published, broadcast, rewritten or redistributed. We strive to uphold our values for every story published.