New York — Tarence Kinsey was a timeout away from being a spectator instead of the hero.
Known more for defense, Kinsey hit a three-pointer with 1.3 seconds left to lift South Carolina to a 60-57 victory Thursday night in the NIT championship game.
After Pat Carroll tied it with a three for Saint Joseph's at the end of a miserable night for the sharpshooter, Kinsey came up the floor and nailed the winning jumper from the right elbow.
"I figured if I miss, we're in OT," Kinsey said. "I didn't want to pass because of the time so I said, 'Why not take the shot?'"
He was only in the game to guard Carroll, who went 5-for-19 and 2-of-13 from three-point range. Coach Dave Odom was about to call timeout and get his shooter, Josh Gonner, back in the game. But Odom didn't pull the trigger.
"I didn't want their defense to set for the last play. So I swallowed my tongue, or whatever," Odom said. "The irony is, had I called a timeout, I would have put Josh in and taken Tarence out -- no question."
South Carolina was only the second team in the NIT to get to 60 points against the Hawks, who controlled the tempo with ball control and good defense.
"I felt if we could hit 60 we would win," Odom said. "I didn't know it would come on the last shot."
Kinsey let his winning shot go just six seconds after Carroll tied it for the Hawks (24-12). But that was one of the few shots Carroll, the Atlantic 10 co-player of the year, could get to go down.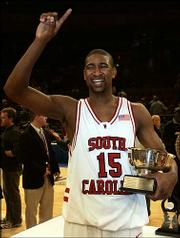 The Hawks started 3-6 in the follow-up season to their run to the NCAA round of eight in 2004. But they turned it around and went 21-6 after Jan. 1.
Carroll's stellar career ended with a 15-point performance, after averaging 20.6 in the Hawks' first five NIT games.
"You're going to have good nights and bad nights as a basketball player. Tonight was definitely a bad night," Carroll said. "The only thing I wanted to do as a player was have no regrets.
"I am proud of the team because everybody gave everything they've got and that's all you can ask for."
Carlos Powell scored a game-high 16 points and was chosen tournament MVP, showing no problems with the right forearm strain he sustained in the semifinal victory over Maryland on Tuesday. He had 31 points and grabbed 16 rebounds in his final two games with South Carolina.
South Carolina (20-13) reached 20 wins for the third time in Odom's four seasons. The Gamecocks lost the 2002 NIT title game to Memphis.
Odom improved to 16-3 in the NIT. He won also won it in 2000 with Wake Forest.
The Hawks were the NIT runners-up in 1996, Phil Martelli's first season as head coach.
Copyright 2018 The Associated Press. All rights reserved. This material may not be published, broadcast, rewritten or redistributed. We strive to uphold our values for every story published.