Louisville, Ky. — At halftime of a game with South Florida, Rick Pitino kept the Cardinals on the bench so they could watch a ceremony honoring the school's 1980 NCAA championship team.
"I wanted them to see the difference in how a team is loved when they win a championship, because it goes down forever," Pitino said after the Feb. 12 game.
The Cardinals (33-4) evidently were inspired. They've won 13 straight since the ceremony and play Illinois (36-1) on Saturday at the Final Four in St. Louis.
"You idolize those guys coming up," said senior guard Larry O'Bannon, who played at the same Louisville high school as Darrell Griffith, the star of the 1980 team. "It is great to be a part of. It is like being a part of your own fraternity -- the players who played for U of L."
The former Cardinals have spent the last two months commemorating the silver anniversary of the school's first championship, and they see striking similarities in the current Cardinals.
"This team is a very special team. They've got a lot of heart," said Griffith, still the school's all-time leading scorer.
"We're all proud of those guys because they remind us so much of us," said Roger Burkman, a junior guard in 1980.
Start with the rosters.
Besides O'Bannon and Griffith's high school connection, both teams had a freshman starting on their front line and two starters from the New York City area. The old team had brothers Rodney and Scooter McCray, from Mount Vernon, N.Y., and Rodney was a freshman. Today's team is led by Francisco Garcia from the Bronx and Taquan Dean from Red Bank, N.J., and has freshman Juan Palacios at forward.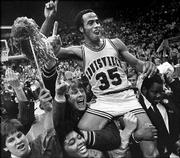 Both teams also had stars who put in extra work.
Dean and Garcia wore 20-pound vests during individual drills early in their careers to improve conditioning. They routinely arrive at Louisville's practice facility before sunrise or after midnight and fire hundreds of shots in the empty gym.
Griffith, the 6-foot-4 guard who led the 1980 champions in scoring, spent up to three hours after each practice dribbling around folding chairs and shooting over volleyball stands.
One night, coach Denny Crum got a call from a campus security guard at 1 a.m. to tell him Griffith was shooting in the gym and several teenagers were rebounding for him.
"I said, 'Well, they're not hurting anything, are they?"' Crum recalls. "The security guy said, 'No, I don't think so.' I said, 'Well, close the door and leave them alone.'"
The teams' styles of play also are similar.
The 1979-80 Cardinals were one of the first teams to employ full-court pressure that wore down opponents, yielded fast breaks and triggered scoring runs. Pitino built his reputation on that kind of strategy.
"Those early years that Denny coached, it was a different wave," Pitino said. "Everyone thought you could win smaller and go to the pressure and create an exciting brand of basketball. That was an exciting brand of basketball they were playing.
"Everybody admired that style."
Copyright 2018 The Associated Press. All rights reserved. This material may not be published, broadcast, rewritten or redistributed. We strive to uphold our values for every story published.