Mass of Christian Burial for Robert L. "Bob" Gernon, 61, Lawrence, will be at 10 a.m. Saturday at Corpus Christi Catholic Church in Lawrence. Burial will follow at 2 p.m. Saturday at Mount Hope Cemetery in Hiawatha.
Mr. Gernon died Wednesday, March 30, 2005, at Lawrence Memorial Hospital from cancer.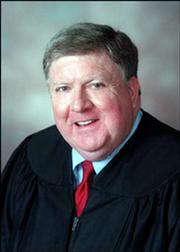 He was born in Sabetha on July 29, 1943, the son of John L. and Kathleen Foley Gernon. He was raised in Hiawatha, where he lived most of his life. He graduated from Kansas University in 1966 and Washburn University School of Law in 1969. He received a master's degree in judicial process from the University of Virginia in 2001.
Mr. Gernon worked as a Shawnee County assistant county attorney before returning to Hiawatha to practice law with his brother. He served as Brown County attorney and counselor in the early 1970s and was appointed judge in the 22nd District Court in 1979. He served on the Kansas Court of Appeals from 1988 to 2003, when he was appointed to the Kansas Supreme Court.
He was a trial advocacy instructor at KU School of Law. He received Kansas Bar Assn. Professionalism and Outstanding Service Awards, honors from both KU and Washburn alumni associations, and many other accolades. He also served many years on KBA's Continuing Legal Education and Professionalism Committees.
Survivors include two daughters, Rebecca Gernon Wilson, Natick, Mass., and Kristin Gernon, New York; a brother, John, Hiawatha; a sister, Maureen Gernon Ong, Overland Park; a grandson; and former wife, Sharon Gernon, Lawrence.
A rosary will be said and a wake will follow from 7 p.m. to 8:30 p.m. today at the church.
The family suggests memorials to St. Lawrence Catholic Campus Center or the Justice Robert L. Gernon Legal Scholarship Fund, sent in care of Warren-McElwain Mortuary in Lawrence.
E-mail condolences may be sent to info@warrenmcelwain.com, subject: Gernon.
Copyright 2018 The Lawrence Journal-World. All rights reserved. This material may not be published, broadcast, rewritten or redistributed. We strive to uphold our values for every story published.