Kansas University is switching from swooshes to stripes.
The Kansas University Athletics Department is putting the finishing touches on a deal to outfit all 17 of KU's official sports -- from swimming to tennis to football and men's basketball -- in adidas uniforms, warm-ups, shoes, sweatbands and other apparel.
The deal will put KU sports in the same financial league with Nebraska, Tennessee, Notre Dame and other universities that have had longtime relationships with Portland-based adidas America, said Tim Haney, the company's director of licensed properties.
The KU deal pulls a major name from the Nike brand, just as adidas wooed Indiana and Pittsburgh last year.
"This is an upper-echelon deal," said Haney, who earlier this week helped announce a $22.7 million contract to outfit all Nebraska teams in adidas apparel through 2013. "Kansas is important for us from the standpoint that it's a first-rate university, (with) powerful sports and a nationally recognized program. There's just a handful of those in the country.
"It feels great. We're excited about the partnership and extremely excited about the opportunities and what the possibilities are -- from branding association to licensed apparel, sales and promotional relationships with such a nationally elite coaching staff and a great conference."
Haney declined to discuss financial terms, other than to describe the compensation as "large" and in full compliance with KU's wishes.
The deal -- agreed to Wednesday but still awaiting signatures and settlement of final details -- includes compensation arrangements for men's basketball coach Bill Self and football coach Mark Mangino, Haney said.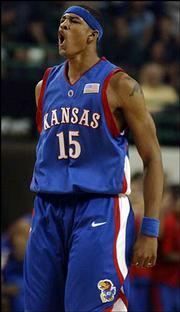 Self and Mangino each have existing contracts with Nike. Self is guaranteed to receive at least $350,000 a year in such compensation.
"Our deals incorporate all the coaches," Haney said. "This is a departmentwide decision from Kansas and a departmentwide approval, from the administration to coaches."
The adidas deal takes effect after KU's current arrangement with Nike expires June 30.
The existing Nike deal covers only football and men's and women's basketball programs, said Jim Marchiony, an associate athletics director at KU. Department officials have been "talking" with Nike and at least two other companies since January about creating an apparel deal to include all of the department's programs.
Marchiony, reached Thursday in New York, declined to discuss adidas or even mention the company by name, but did acknowledge that the department would make a formal announcement about a new contract next week.
"It will be a very good deal for all our coaches and student athletes," Marchiony said.
The new contract will give the university time to bring in new uniforms and other apparel in time for fall sports, Marchiony said. The football team will need new jerseys to comply with the university's decision to standardize its official shade of blue.
Adidas America is a subsidiary of adidas-Salomon AG, a corporation that also includes sports brands Salomon, TaylorMade, Bonfire and Mavic.
Copyright 2018 The Lawrence Journal-World. All rights reserved. This material may not be published, broadcast, rewritten or redistributed. We strive to uphold our values for every story published.