EAST LANSING, MICH. — The Final Four merely was expected when Alan Anderson, Kelvin Torbert and Chris Hill started their careers at Michigan State. They didn't expect it to be a four-year trip.
The Spartans, after all, were coming off three straight Final Fours, including a national championship in 2000. They had won four consecutive Big Ten titles.
It didn't work out that way.
Early departures for the NBA forced Anderson, Torbert and Hill into bigger roles as freshmen. Along with former walk-on Tim Bograkos, they fell one victory short of the Final Four as sophomores in 2003, were relegated to contenders instead of champions in the Big Ten the next two years and entered the NCAAs this year with an 81-43 overall record.
It took them nearly two years to snap a 12-game losing streak against ranked opponents -- finally doing it Feb. 24 against Wisconsin -- because they couldn't make key shots or stops.
They were good, just not great, but they were called losers and chokers.
Now, Michigan State's much-maligned seniors are ending their careers where they thought it would be all along -- in the Final Four, where they meet powerful North Carolina in the semifinals Saturday night.
The Spartans got there by beating both top-seeded Duke and second-seeded Kentucky in consecutive games in the Austin Regional, the first team ever to beat both those powers in the same NCAA Tournament.
Still, it wouldn't have happened without crucial help from sophomore Shannon Brown and juniors Paul Davis and Maurice Ager. That trio made the all-regional team, and Brown was the most outstanding player.
"We're working on sending them out right," Davis said.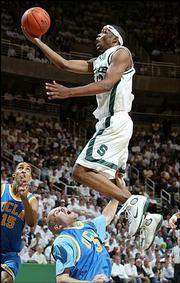 Brown scored a career-high 24 points in the double-overtime thriller over Kentucky in the regional championship game. Davis recorded double-doubles in points and rebounds in the last three games, and Ager totaled 35 points against Duke and Kentucky.
"We couldn't have done it without them," Anderson acknowledged.
The Spartans will need everyone -- seniors and non-seniors alike -- to play up to their potential to have any chance against the Tar Heels, who are five-point favorites.
The Spartans are eager to show they're more like the Tar Heels than the Michigan State teams of old.
Michigan State is counting on Davis to display his skills and improved strength against Carolina's star center, Sean May.
Davis, the first Spartan since Earvin "Magic" Johnson to have three straight double-doubles in the NCAA Tournament, knows his task is tough.
"With a player like that, you can't stop him, but you can slow him down," he said.
And May equally is impressed with Davis.
"Paul's about as good as they get," May said. "He can really shoot the basketball from the perimeter, he's got some great post moves and he's an underrated defender."
Copyright 2018 The Associated Press. All rights reserved. This material may not be published, broadcast, rewritten or redistributed. We strive to uphold our values for every story published.