A new study has determined that daily contact with newsprint ink can cause hair loss and impotence.
APRIL FOOLS!
Among the most underappreciated of "holidays," April 1 represents the one time of the year when it's socially acceptable -- and often encouraged -- to get away with just about anything.
Last week Lawrence readers were asked to submit their stories about being on the giving or receiving end of an April Fools' Day prank. We compiled some of the top submissions.
Julia Rose-Weston relates a tale about how her father, Jack Rose, would trick her with simple April Fools' jokes.
She says, "Year after year, I fell for: 'It's snowing! There's no school today. What's that behind the chair? Wow, you've got a huge zit on your forehead.' You would think, as I grew older, I'd get wiser."
The tricks followed Rose-Weston into adulthood, when after she moved to Lawrence her dad had a friend pretend to be an agent with her insurance company disputing a claim she recently made.
So she spent the next year in preparation of getting even.
"I used the excuse of, 'You're my life insurance beneficiary,'" to get his social security number from him without raising suspicion," she says. "I dug up an old IRS letter that I had received long ago and clipped the letterhead, bar code and office codes. I created lists of detailed things that I knew about his job and collected random tax policy jargon from the federal tax book. I then created a rather detailed and elaborate fake IRS audit with the help of a copy machine, typewriter and my own hand."
The back of the last page had a help number to call for assistance: 1-800-APRIL FOOL. It also contained a contract for him to sign with the history of April Fools' Day and "why we had no business celebrating it."
She sent the letter to her father, who lives in Iowa, and it was apparently a rousing success.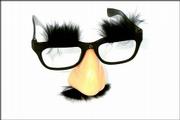 "My mother said every time he read the word 'discrepancies,' his whole body cringed."
Rose-Weston admits her dad never signed the letter, but he never tried to play another prank on her either.
A parent finds their revenge in Ric Averill's tale.
The area theater veteran was rehearsing for an event at the Lawrence Arts Center when he got a message on his cell phone from his mother.
"Mom's not in the best of health -- doesn't get around so well, but she's doing OK in her Brewster Place apartment in Topeka," Averill recalls. "She says, 'Ric, I've had it. I just can't live here anymore. I need to move in with you and Jeanne -- and soon. In fact, this weekend. I hope you don't mind.'"
"My mind races. 'Can we do this? What will Jeanne think? Will we need a helper for her? Oh, my gosh, so soon?'"
Averill adds, "Then, right after the pause, she chuckles and says, 'April Fools.'"
While these gags tricked specific individuals, dozens of people were duped in a scheme co-organized by David Simmons.
In 1982, Simmons was the president of the Student Activities Committee for Baker University. His organization sent a letter to Bob Hope in an effort to get the comedian to speak at Baker's campus. Although Hope never responded, word of the letter leaked and a rumor began to snowball that the entertainer was indeed appearing there.
"The only thing promoted was that we would have a special announcement at 7 p.m. at Rice Auditorium on April 1," Simmons says. "However, the committee never said Bob Hope was coming to Baker, and we were sure to 'nonconfirm' that he was coming."
The group then hired a limo from a Tonganoxie funeral home to drive to Baldwin. In it rode a balding photographer from the local paper who somewhat resembled Hope. He circulated around town in the limo, which then parked behind the auditorium.
"At 7 p.m. Rice Auditorium was packed with students, townspeople and several media outlets, including some television crews from Topeka," Simmons remembers. "There must have been 700-800 people in attendance. As the curtain pulled back, the committee yelled, 'April Fools.'
"After a moment of stunned silence, the scene turned unpleasant," he says. "We heard some people say they took off from work; others hired baby sitters."
Simmons mentions Baker's alumni department recently asked members about the thing they remembered the most from their years at the school.
He says, "Curiously, a few commented about the Bob Hope April Fools' joke."
Copyright 2018 The Lawrence Journal-World. All rights reserved. This material may not be published, broadcast, rewritten or redistributed. We strive to uphold our values for every story published.