SOUTH BEND, IND. — Amir Johnson saw Julian Wright when he arrived for the McDonald's All-American game Saturday in South Bend and nearly did a double take.
Johnson, a Louisville-bound forward from powerhouse Westchester (Calif.) High, remembered his first glimpse of Wright at the Nike ABCD camp two years ago, thinking the 6-foot-8 wing from Chicago Heights, Ill., was a seasoned high school veteran.
"I had seen him my sophomore year, and I thought he was older," Johnson cracked. "I think he's a great player. He was the only one jumping real high back then."
Wright still plays a much more mature game than most 18-year-olds in the sense that points alone just don't interest him.
Wright rather would focus on floating the perimeter, getting his teammates involved and using his ridiculously long arms to play lock-down defense.
The key word to describe Wright is "long." From his long arms, to his long legs to his long fingers.
All week at McDonald's All-American practices, the players on the West squad who tried to score on him couldn't believe how much his arms play a factor in his defensive prowess. North Carolina recruit Tyler Hansbrough even called him "the longest thing he'd ever seen."
"Julian's long, man," future teammate and fellow All-American Micah Downs said. "His arms just keep going forever sometimes on rebounds."
That length can be used to get to the basket on offense, too, when he feels it necessary to get to the hole and use his superior athleticism to get above the rim.
But it just doesn't happen much, and that's by choice.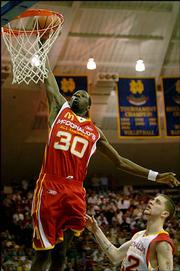 Passing up points
He's not like many guys ranked as a top-10 recruit in the sense that he doesn't need 25 points to be happy.
"I don't think I'm ever close to getting 25 shots," he said. "That's my mindset, get easy passes, find people cutting and just open it up. I usually shoot like twice in the first half, and then open it up in the second half and get more aggressive when the game's on the line. I'm always willing to take the big shots, and I did it a lot in big games this year."
He showed that knack in front of a live national audience Wednesday night in his West squad's 115-110 losing effort at the McDonald's game. Wright largely was responsible for the West closing a 27-point gap in the first half. He was solid defensively on Oklahoma State recruit Gerald Green, widely regarded as the top player in this year's prep crop.
But when Green found ways to put the East back on top, Wright felt he had to respond. He did it twice with authoritative dunks and once with a face-up 10-foot jumper over 6-foot-10 Duke recruit Josh McRoberts, the game's MVP.
"I have to get teammates the ball first," Wright said. "I'm one of those guys who will have a big second half, because I try to get people the ball early, not get in foul trouble, and then I can play defense aggressively. When the situation comes, I know I'm capable of scoring."
Playing point in past
In retrospect, Wright played as a court general in those closing minutes. He was defending, dishing, bringing the ball up, scoring and rebounding. He did it all, which was nothing new. At Homewood-Flossmoor (Ill.) High, Wright played all five positions on the floor, starting at point guard for the majority of his junior season.
Wright hinted earlier this week that he wouldn't mind testing the positional waters at KU next year -- "A little point and wing," he said. "I like passing the ball and getting it inside to the big guys. Pass first shoot second." -- though Mario Chalmers, rivals.com's No. 1 point guard recruit in the class of 2005 and Wright's future teammate quickly put that one to rest.
"Naw," Chalmers said with a laugh. "That's not gonna happen."
Wright's versatility is a result of trying to mold his game after that of Minnesota Timberwolves standout Kevin Garnett. As a boy, Wright saw Garnett play in 1995 at Chicago's Farragut Academy, and from then on dedicated himself to being a versatile big man.
"In any environment, I try and make sure I can contribute in more than one way and not be one-dimensional," Wright said. "I brought the ball up, played a little point guard, passed the ball, blocked some shots, got rebounds and played good defense. I also encourage teammates, make hustle plays, and that's what I try to do."
'Make things better'
There is no part of Wright's body that is more active during the course of a game than his right hand, constantly high-fiving teammates and nodding his head with words of encouragement.
Even during the McDonald's practices this week, when many players were just going through the motions in front of NBA scouts in anticipation for Tuesday's scrimmage and Wednesday's game, Wright treated every moment like it was a game-situation.
"I'm always trying to make things better -- not just on the court, but off the court -- and make guys comfortable with each other," he said. "I've always been probably the most talented or athletic guy on my team, but stat-wise, you never could tell."
He's right, too. As a senior at H-F, Wright averaged just 14 points and 8 rebounds a game.
"I'm able to do stuff outside of stats that make teams better," he added. "That's the way I am."
Copyright 2018 The Lawrence Journal-World. All rights reserved. This material may not be published, broadcast, rewritten or redistributed. We strive to uphold our values for every story published.