Topeka — Kansas Supreme Court Justice Robert L. Gernon of Lawrence, a man known for his love of the law and well-honed sense of humor, has died from complications of cancer. He was 61.
State officials Thursday extended condolences to the family of Gernon, who devoted 35 years of his life to the law as an attorney, judge and probation officer.
"His fairness and integrity made him a valued member of the Kansas Supreme Court, and his untimely death cuts short a distinguished legal career," Gov. Kathleen Sebelius said.
Chief Justice Kay McFarland said, "Justice Gernon's commitment to public service, his legal skills and his ready sense of humor will be missed."
His death creates a vacancy on the seven-member court, which has been under fire from Republican legislators for recent decisions.
Political implications
On Thursday, lawmakers extended their sympathies to Gernon's family, but the political implications of a vacancy on the court were not far away.
In December, the court struck down the state's death penalty statute, and in January it ordered the Legislature to increase school funding and make the finance system more equitable.
In response, lawmakers during the legislative session advanced measures to change the way justices are selected and limit what courts can consider in school finance litigation.
Sen. Susan Wagle, R-Wichita, asked a colleague where Gernon voted in the 4-3 decision to overturn the death penalty. He voted with the majority.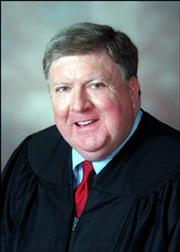 In 2001, while a member of the Court of Appeals, Gernon wrote the decision that said marriage between a man and a person who became a woman through sexual reassignment surgery may be valid. That decision was overturned by the state Supreme Court.
Senate Majority Leader Derek Schmidt, R-Independence, wrote the proposed constitutional amendment that would require state Senate approval of any justice's appointment to the state Supreme Court.
"That is a separate issue from Justice Gernon's passing," Schmidt said of his proposal. He said Gernon's death was "a personal tragedy for the Gernon family and a loss for Kansas."
With the death of Gernon, Sebelius will have to declare a vacancy on the court, and then the nominating commission has 60 days to provide nominees.
Currently, a nominating commission screens applicants for vacant positions on the Supreme Court and then forwards three nominees to the governor, who picks one. Justices are subject to retention elections every six years.
On school finance, the court ruled 7-0 that the Legislature had failed its constitutional duty to provide adequate and equitable funding. On Wednesday, the Legislature approved a $125.2 million funding increase for schools -- a decision that will now go to the court for review.
The court can still review the decision. In normal circumstances, if a tie occurred between six justices, it would have to be broken by the lower court decision. But since the Legislature has proposed a new school finance law, the process of breaking a tie was unclear.
His career
Gernon had been suffering from cancer. In November, he had a kidney removed.
He was appointed by Gov. Bill Graves to the state Supreme Court in 2003 after having served on the Kansas Court of Appeals.
Before being named to the state appeals court in 1988 by Gov. Mike Hayden, Gernon worked as a private attorney, assistant district attorney and district judge.
Gernon grew up in Brown County, received his undergraduate degree from Kansas University and law degree from Washburn University. He served as a probation officer in Shawnee County before graduating from law school.
Appellate Judge Jerry G. Elliot was a close friend of Gernon's.
"He was a gentle soul," Elliot said Thursday, "and a lot of people are going to miss him. I'll miss his sense of humor, probably more than anything. He loved his job, he loved being a judge. He wasn't the greatest golfer in the world."
Elliot and Douglas County Judge Robert Fairchild both remembered Gernon as heavily involved in mentoring young lawyers. He also organized continuing education seminars for veteran attorneys and helped organize the Kansas Bar Assn.'s annual review of law.
"He absolutely loved the legal system, the judicial system," Fairchild said. "From the time he became a judge, he worked to improve it."
A rosary will be at 7 p.m. today at Corpus Christi Catholic Church, 6001 Bob Billings Parkway, with a wake to follow. Mass of Christian Burial will be at 10 a.m. Saturday at the church with burial at 2 p.m. at Mount Hope Cemetery in Hiawatha. Sebelius said flags would be lowered Saturday.
Gernon is survived by two daughters, Rebecca Gernon Wilson and Kristin Gernon.
Gernon was proud of his children and grandchild, said Douglas County District Judge Jean Shepherd, Gernon's friend.
"I think that's the legacy he's probably most proud of," said Shepherd, who had spent much of her free time in recent days with Gernon's family. "He also was a wonderful friend to a lot of different people."
-- Staff writer Joel Mathis contributed to this report.
Copyright 2018 The Lawrence Journal-World. All rights reserved. This material may not be published, broadcast, rewritten or redistributed. We strive to uphold our values for every story published.