Winter Haven, Fla. — Juan Gonzalez couldn't even make it to opening day with the Cleveland Indians.
The 35-year-old slugger was placed on the 15-day disabled list Thursday by the Indians, who will go north to begin the 2005 season and leave the oft-injured outfielder behind in Florida to rehab his strained right hamstring.
Gonzalez has missed 301 of a possible 486 games the past three seasons with a variety of injuries, primarily to his back.
"He's frustrated with his body," Indians manager Eric Wedge said. "But he understands this is the right thing to do."
To replace Gonzalez on the roster, the Indians recalled outfielder Grady Sizemore. The 22-year-old was optioned to Triple-A Buffalo on Sunday when Wedge announced that Gonzalez, a two-time AL MVP with 434 career home runs, would be his starting right fielder.
That lasted less than 24 hours as Gonzalez missed three exhibition games because of his latest injury before the Indians decided to put him on the disabled list -- his 11th trip to the DL in 14 major league seasons.
Gonzalez missed eight days earlier in training camp because of a strained left hamstring.
"It's disappointing more because of sensing Juan's frustration and how much he cares," Indians general manager Mark Shapiro said. "It's one of those things where it's the right thing to give himself the best chance to play. We'll keep him in warm weather, get him fully recovered and get him back when we can."
The Indians don't have much invested in Gonzalez, who played for the Royals last season. They signed him to a one-year contract in January, guaranteeing him only $100,000. By making the 25-man roster he earned an additional $600,000.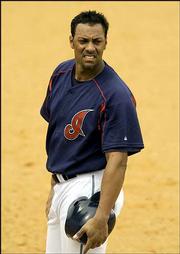 He'll get another $1.95 million if he attains other performance and roster incentives.
Gonzalez, a three-time All-Star, hasn't played in more than 82 games since 2001, when he appeared in 140 for the Indians. But he has flashed some bat speed and power this spring. He batted .243 with three home runs and eight RBIs in 13 games.
"There is no mistaking what we've seen with his bat," Wedge said. "I still see the bat able to play and able to play in a big way -- if he can stay healthy."
While Gonzalez is sidelined, Casey Blake, who was moved from third base to the outfield this spring, will shift from left field to right. Sizemore will play center when he's in the lineup, pushing Coco Crisp over to left for those games. Ryan Ludwick is the fourth outfielder and can play all three spots.
The initial decision to keep Gonzalez was a bit surprising for the Indians, given his lengthy medical past and their belief that Sizemore will be a star. Gonzalez also is an odd fit in a clubhouse filled with young players. Wedge was reluctant to send down Sizemore, who batted .291 with a homer and 10 RBIs in 17 exhibition games. But now he's back.
Shapiro insists the decision to keep Gonzalez will pay off, and that the team is not ready to give up on him just yet.
"We said when we made the decision that we've got a good alternative," Shapiro said. "The silver lining is we'll get to see Grady play on this club and get Juan back healthy and strong. At this point we've committed to him, so if he's healthy and the hamstring is fine, he's coming back."
Copyright 2018 The Associated Press. All rights reserved. This material may not be published, broadcast, rewritten or redistributed. We strive to uphold our values for every story published.