St. Louis — Rick Pitino and Roy Williams, overachieving Michigan State and almost-undefeated Illinois.
The Final Four teams will have to put on quite a show if they're going to match the excitement of possibly the best NCAA Tournament ever. But these marquee coaches and programs haven't had trouble entertaining thus far.
"I think it's the best ever," said Purdue's Gene Keady, one of the dozens of coaches who came to the Final Four city of St. Louis on Thursday. "The closeness of the games and how what they call the mid-majors really aren't mid-majors anymore. Anybody can beat you."
Vermont's upset of Syracuse and Bucknell's shocker over Kansas University defined the first crazy week, and the madness continued into an even more dramatic set of regionals.
Three regional finals went into overtime, the first time that's happened. The opponents in Saturday's first semifinal, Illinois and Louisville, each overcame double-digit deficits to force overtime and advance.
"These young people, under the influence of pressure, how they accomplish what they accomplish is amazing," Pitino said.
Pitino became the first coach to lead three different programs -- Providence, Kentucky and Louisville -- to the Final Four, and there's no denying his touch on the bench made a difference.
With West Virginia on an unbelievable shooting tear, Pitino somehow kept the Cardinals within reach. He scrapped the 2-3 zone he'd been using to compensate for his team's lack of depth this season, told his players to press and trap and disrupt. The Mountaineers eventually cooled off, and the Cardinals (33-4) found themselves within a couple baskets.
And by the time overtime was winding down, Taquan Dean and Larry O'Bannon were celebrating and Louisville was winning going away.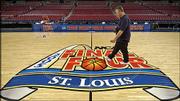 "We've seen it all season from this team," Pitino said. "So many times, it looked like we were going to get knocked out. They're very resilient, very tough-minded and they're tough kids. I'm just a pussycat following their coattails. I just sit back and marvel at what they've accomplished."
Illinois (36-1) trailed Arizona by 15 with 4:04 left, then Bruce Weber's team staged one of the most stirring comebacks in tournament history.
Luther Head made a pair of 3-pointers and had a steal and layup to lead the rally. The Illini survived a tight overtime and made it to where they've been pointed since December, when they moved to No. 1 in the Associated Press poll -- a perch they haven't been pushed from since, even when they lost their only game, to Ohio State on March 6.
"St. Louis has been the goal, but we've had that No. 1 for so long that that's been our outlook for the whole year," forward Jack Ingram said. "We want to bring this program to a level that no one else has ever done and winning some games in the Final Four will do that for us."
Also trying to break new ground is Williams, the Kansas-turned-North Carolina coach, who has accomplished virtually everything in college basketball except the national title. The Tar Heels (31-4) face Michigan State (26-6) in Saturday's second semifinal.
Two years ago, when he took the Jayhawks to the national final but lost, Williams recalled a conversation with his mentor, Dean Smith, after Smith won his first title with the Tar Heels in 1982.
Williams said he told Smith he was so happy for him, to have finally won a title. Smith replied that he didn't think he was any better a coach than he had been 2 1/2 hours before.
Williams spearheaded a remarkably fast turnaround when he arrived at North Carolina last season. Now, for the fifth time in his career, he finds himself two wins away from winning the elusive title.
"It definitely will happen, if not this year, another year," Pitino said of Williams. "Those programs are too strong not for it to happen. It just takes time and patience, a little luck along the way, and it will happen."
Michigan State and Tom Izzo got their championship in 2000, when the "Flintstones" -- Flint natives Mateen Cleaves, Morris Peterson and Charlie Bell -- wore the green and white. This was supposed to be something of a rebuilding year for the Spartans, and when they lost to Iowa in the first round of the Big Ten tournament, the season seemed to be slipping away.
As a motivational ploy, Izzo took a hammer and smashed the game tape from that loss. Four wins later -- including a double-overtime victory over Kentucky last Sunday -- and the Spartans are at the Final Four for the fourth time in seven seasons.
And this is, by most accounts, their most unexpected trip.
"It's been a unique group," Izzo said of the team led by Maurice Ager, Paul Davis and Alan Anderson. "I think there will be some memories that will come from this that will last a lifetime."
Joining the many this tournament has already created.
Copyright 2018 The Associated Press. All rights reserved. This material may not be published, broadcast, rewritten or redistributed. We strive to uphold our values for every story published.