Gunung Sitoli, Indonesia — Angry and hungry survivors were demanding help from Indonesia's government Thursday, three days after an earthquake leveled homes and slowed the delivery of aid over roads and bridges battered by the temblor.
Indonesian President Susilo Bambang Yudhoyono stood in pouring rain in the town of Gunung Sitoli on Nias island and hugged a child, as she wept uncontrollably and told Yudhoyono she had lost her brother and sister in Monday night's powerful magnitude-8.7 quake.
"Be patient, we will help you," Yudhoyono's wife told another crying girl.
After being confronted by a group of hungry and angry survivors, senior officials conceded the government had responded slowly to the humanitarian crisis.
"Bad damage to roads and bridges and bad weather are disturbing distribution of aid and the relief effort," Yudhoyono admitted on a visit to the hardest-hit Nias island, where most of the estimated 400 to 500 killed in the quake died.
Three days after the disaster, survivors afraid their houses could collapse in one of the numerous aftershocks jolting the region huddled outdoors or in mosques waiting for food to arrive.
Meanwhile, survivors and soldiers picked through rubble in Gunung Sitoli for survivors or for the bodies of those crushed after their homes collapsed.
In the early hours of Thursday, a 13-year-old girl was pulled out alive from a collapsed five-story building 52 hours after the quake. Red Cross official Herri Ansyah said: "We will not give up hope. We will keep looking."
But there were grim reminders that for many, the help will arrive too late -- a blackened head poked out of one wrecked building and a pair of legs protruded from another as Indonesian troops began moving rubble with heavy equipment.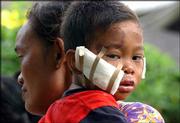 The government said Thursday that so far 279 bodies had been recovered and the final toll likely would be between 400 and 500 across the disaster zone. Earlier in the week, officials gave death toll estimates ranging from 1,000 to 2,000.
Across the island, a search helicopter discovered a group of 11 Western surfers who had been missing since the quake, the Swedish Foreign Ministry said.
"They're feeling well, considering the circumstances," Swedish Foreign Ministry spokesman Christian Karlsson said. He said the surfers had slept outside since the quake.
Stockpiles of emergency supplies are already in Aceh, taken there to help feed and care for survivors of the Dec. 26 quake and tsunami disaster that killed more than 126,000 Indonesians.
Copyright 2018 The Associated Press. All rights reserved. This material may not be published, broadcast, rewritten or redistributed. We strive to uphold our values for every story published.