Chicago — LeBron James' game-tying three-pointer at the end of regulation could have crushed the Chicago Bulls.
Instead, it made them more determined to keep their winning streak intact.
"Going in the huddle we were not demoralized. We were ready to play more. As a matter of fact they were angry about it. We just came right out and took control right away," Chicago coach Scott Skiles said.
That the Bulls did, opening overtime with an 11-0 run to defeat James and the Cleveland Cavaliers 102-90 Thursday night for their eighth straight victory. The winning streak is Chicago's longest of the season and extended the Bulls' lead over Cleveland in the East to 2 1/2 games.
"We are on a roll here. We are four games out of first," Skiles said.
Tyson Chandler scored five of his 15 points in overtime and had 14 rebounds. Ben Gordon scored 21 and had a career-high eight assists, while Antonio Davis added 17 points, four in overtime.
Drew Gooden scored 27 points and had 12 rebounds for the Cavaliers, and James added 26 on 10-of-28 shooting against the tough defense of rookie Andres Nocioni.
"It seemed they wanted it more as a home game, and they outbattled us for loose balls and finished the plays down the stretch," Gooden said.
James missed all three of his shots in overtime when the Cavaliers were outscored 14-2 and didn't manage a field goal.
Chandler converted a three-point play with 2.8 seconds left in regulation after a splendid pass from Gordon to put the Bulls up 88-85 in regulation. But after a timeout, James curled to get the inbounds pass, and when the Bulls didn't foul him, he took one dribble and let fly with his three-pointer from the left side of the arc.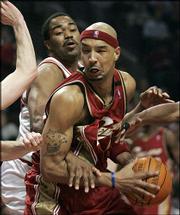 "I got a good screen from my big guys," James said. "I knew I had 2.8 seconds to go, so I just took my time and let it ride."
In overtime, Davis and Kirk Hinrich hit jumpers, Chandler converted another three-point play, Davis hit two more from the line and Nocioni sank a jumper to cap the 11-0 spurt.
"LeBron hits that big shot and we respond," Davis said. "You got young guys on the floor and you see them put their head down. But they put it down for a second and picked it right back up and a light goes off. That was something all last year we couldn't do."
Eddy Curry, the team's leading scorer, remained in Charlotte for treatment of an irregular heartbeat that prevented him from playing Wednesday night as well. But Chandler and Davis, who played 48 minutes at age 36, took up the slack.
"I think he will be fine and we miss him," Davis said. "We were going in saying, 'We don't have Eddy, we have to make up for all he brings to this team."'
Davis took an inbounds pass and hit a turnaround jumper just before the third quarter buzzer go put the Bulls ahead 67-61. The Bulls increased the lead to eight early in the fourth when Davis made three free throws and a basket on the break.
Gooden hit his first six shots and scored 15 of Cleveland's first 21 points.
James struggled with his shooting in the first half, missing six of 10 field goal attempts and three of five from the line, but his slashing drive on a break put the Cavs up 48-46 at the half.
Pacers 114, Heat 108, OT
Indianapolis -- Stephen Jackson forced overtime by making a three-pointer with 0.2 seconds left, then put the Pacers ahead for good on another three with 1:54 remaining to lead Indiana to a 114-108 victory Thursday night over the Miami Heat.
It was the third straight overtime game between the teams, and Indiana extended its winning streak over the Heat to 12 in a row.
Jackson finished with 29 points, while Reggie Miller had 31 points and 13 assists. Miller shot 11-for-18 from the field and made all eight of his free throws for Indiana, which defeated the Heat 106-100 in Miami on Jan. 21 and 93-91 at home Feb. 23.
For Miami, Dwyane Wade scored 37 points, Damon Jones had 27 and Shaquille O'Neal 24. O'Neal, who grabbed 13 rebounds, did not score in overtime after tallying 10 points in the fourth quarter.
Indiana trailed 92-86 with 1:43 remaining, but Anthony Johnson hit a jumper from the free-throw line and a three-pointer to cut the lead to 92-91 with 29 seconds left.
Wade, who scored the Heat's last six points of regulation, made a shot to give Miami a 94-91 lead with 10 seconds remaining.
After a timeout, Jackson missed a three, Dale Davis grabbed an offensive rebound and Austin Croshere passed to Jackson just to the right of the top of the key. His three-pointer tied it, and Wade missed an alley-oop attempt off an inbounds pass on the final play of regulation.
Jackson's three-pointer with 1:54 left in overtime gave Indiana a 104-102 lead, and Keyon Dooling missed a 6-footer for Miami. Davis made two foul shots after grabbing an offensive rebound, making it 106-102. After Wade missed a jumper, Miller knocked down a 15-footer for a six-point lead.
Davis had 13 points and 11 rebounds, and Anthony Johnson had 16 points and 13 assists.
T'wolves 105, Lakers 96
Los Angeles -- Kevin Garnett had 23 points, 12 rebounds and six assists, and six teammates scored in double figures as the Timberwolves gained their fifth straight victory, matching a season-high.
The Timberwolves won 15 of their first 23 games, lost 22 of their next 35, and now have won 10 of their last 14.
Never before have the teams that met in the conference finals one season failed to make the playoffs the next, but the Timberwolves (38-34) and Lakers (33-38) both are in jeopardy of missing out.
Copyright 2018 The Associated Press. All rights reserved. This material may not be published, broadcast, rewritten or redistributed. We strive to uphold our values for every story published.