Pinellas Park, Fla. — Terri Schiavo, the brain-damaged woman who became the focus of a family feud that mushroomed into a national right-to-life debate, died Thursday, 15 years after slipping into what doctors said was a persistent vegetative state and 13 days after a Florida judge ordered her feeding tube removed. She was 41.
About 9 a.m., cradled by her husband, Michael, and holding a stuffed tabby cat under one arm, Schiavo "died a calm, peaceful and gentle death," said George J. Felos, Michael's lawyer.
Terri Schiavo's parents were not at the hospice at the time. Her brother and sister were in her room -- which was decorated with lilies and roses -- before she died. But Felos said that hospice personnel asked them to leave so that Terri could be examined.
Bobby Schindler started arguing with a law enforcement official, Felos said. Michael Schiavo feared a "potentially explosive" situation and would not allow the brother in the room.
"Mr. Schiavo's overriding concern here was to provide for Terri a peaceful death with dignity," Felos said. "This death was not for the siblings, and not for the spouse, and not for the parents. This was for Terri."
The dispute over who would be at Schiavo's side -- and arguments over what will happen to her remains in coming days --reflected the bitterness that has surrounded her case for years. What began as a private matter escalated into a legal battle and a political fight that occupied Florida's Legislature and governor and, more recently, Congress and the president.
Until Wednesday, Bob and Mary Schindler continued the legal battle to keep their daughter alive; they maintained that she had been misdiagnosed and could be helped through therapy.
Michael Schiavo said his wife told him she never would have wished to be kept alive by artificial means.
The Rev. Frank Pavone, a Roman Catholic priest and spiritual adviser to the Schindlers, said Schiavo's death was "a killing."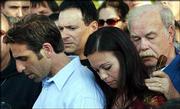 "We grieve that our nation has allowed such an atrocity as this, and we pray that it will never happen again," Pavone said.
Outside the hospice, Terri's sister, Suzanne Vitadamo, thanked religious leaders, protesters, politicians and the media for taking an interest in Schiavo.
"After these recent years of neglect at the hands of those who were supposed to protect and care for her, she is finally at peace with God for eternity," Vitadamo said.
Religion and the courts
The Schindlers' cause had been embraced by conservative and religious activists. Last month, Congress and President Bush rushed through emergency legislation intended to keep Schiavo alive.
But federal judges from Tampa to the U.S. Supreme Court refused to step in and overrule Pinellas Circuit Judge George W. Greer, who consistently sided with Michael Schiavo and ordered the feeding tube disconnected.
The announcement that Schiavo had died was met by the demonstrators with weeping, gasps, hymns and prayers.
Marianne Pasha, spokeswoman for the Pinellas County Sheriff's Department, said an interagency plan was in place to protect Michael Schiavo, the woman he now lives with, their two children, and Greer.
In Washington, statements from President Bush and congressional leaders were largely muted -- focused mostly on offering condolences to the Schindler and Schiavo families.
Terri Schiavo was a Roman Catholic, and the Vatican on Thursday called the circumstances of her death "a violation of the sacred nature of life" that had "rightly shocked consciences."
For defenders of the court decisions to disconnect Schiavo's feeding tube, all the judge had done was respect her wishes as she had expressed them to her husband and others.
"The overriding issue in this case was her choice," Felos said. According to court testimony, the attorney said, Schiavo reportedly had said "no tubes for me." Her parents called the testimony hearsay.
On Feb. 25, 1990, Schiavo had a heart attack and collapsed in the hallway of her home. Doctors cited a potassium imbalance caused by an eating disorder. Schiavo stopped breathing for several minutes, cutting off the oxygen supply to her brain.
The result, neurologists said, was the destruction of Schiavo's cerebral cortex, the area of the brain that governs thought, feelings and awareness. Although she could breathe on her own, Schiavo could not speak, eat or drink; she had to receive nutrition and hydration through a plastic tube connected to her stomach.
Autopsy planned
The debate about the extent of her brain injuries may be resolved by the autopsy ordered by William A. Pellan, director of forensic investigation for Pinellas County. The autopsy will include X-rays and an examination by a board-certified neuropathologist, Pellan said Thursday.
The autopsy also could resolve allegations made by the Schindlers and their supporters that Schiavo may have suffered broken bones at the hands of her husband, and that her brain injuries may have been caused by an attempted strangulation.
Bob and Mary Schindler arrived at the hospice after their daughter had died, and Michael Schiavo left the room so they could be alone with her, Felos said. Hospice workers later bathed the body, Felos said, and 30 to 40 nurses and other hospice workers formed a circle to bid farewell to a patient they had cared for for the past five years.
At 11:14 a.m., a white van accompanied by a police motorcycle escort transported Schiavo's body to the county morgue. Pellan said it could take several weeks to issue an official cause of death and the autopsy report.
¢ Feb. 25, 1990: Schiavo collapses in her home from a chemical imbalance. Her heart temporarily stops, cutting off oxygen to the brain.¢ November 1992: Schiavo's husband, Michael, wins more than $1 million in a malpractice suit.¢ July 29, 1993: Bob and Mary Schindler try to have Michael removed as their daughter's guardian. They accuse him of not properly caring for Schiavo. The case is dismissed.¢ Feb. 11, 2000: Circuit Judge George W. Greer approves Michael Schiavo's request to have Terri's feeding tube removed, agreeing that she had told her husband she would not want to be kept alive artificially.¢ April 2001: State and U.S. Supreme courts refuse to intervene, and Schiavo's tube is removed, but another judge orders it reinserted two days later.¢ Nov. 22, 2002: Greer finds no evidence that Schiavo has any hope of recovery and again orders the tube removed.¢ Oct. 15, 2003: Tube removed for second time.¢ Oct. 21, 2003: Florida Gov. Jeb Bush signs emergency bill allowing him to intervene, then orders tube reinserted.¢ Dec. 2, 2003: Independent guardian finds "no reasonable medical hope" that Schiavo will improve.¢ Sept. 23, 2004: Florida Supreme Court strikes down the law that allowed Bush to intervene.¢ Feb. 25, 2005: Greer gives permission for tube removal at 1 p.m. March 18.¢ March 18: Feeding tube removed.¢ March 20-21: Congress passes a bill that would allow a federal court to review the case and prolong Schiavo's life. Parents file an emergency request with a federal judge to have the tube reconnected.¢ March 22: U.S. District Judge James Whittemore refuses to order the reinsertion of the tube. Parents appeal to the 11th U.S. Circuit Court of Appeals.¢ March 23: The 11th Circuit declines to order the reinsertion of the tube. The Schindlers turn to the U.S. Supreme Court.¢ March 24: The U.S. Supreme Court denies the appeal.¢ March 25: The Schindlers again ask Greer to intervene, saying Schiavo tried to say, "I want to live."¢ March 26: Greer rejects another plea from the Schindlers; Florida Supreme Court declines to intervene.¢ March 29: 11th Circuit agrees to consider the Schindlers' emergency bid for a new hearing.¢ March 30: The 11th Circuit declines to intervene. The Schindlers appeal to the U.S. Supreme Court, which also refuses to intervene.¢ March 31: Terri Schiavo dies at 41.
Copyright 2018 The Lawrence Journal-World. All rights reserved. This material may not be published, broadcast, rewritten or redistributed. We strive to uphold our values for every story published.