St. Petersburg, Fla. — Pedro Martinez pranced through the champagne-soaked clubhouse in a drenched Harvard baseball T-shirt, hugging teammates and savoring another Red Sox playoff berth.
Boston clinched its second straight trip to the postseason Monday night, beating the Tampa Bay Devil Rays, 7-3, behind Manny Ramirez's AL-leading 43rd home run and Johnny Damon's go-ahead, three-run shot.
"We haven't accomplished anything yet," Ramirez said after getting repeatedly sprayed with champagne. "We're going to take it to another level and see what happens."
The Red Sox, assured of no worse than the AL wild-card berth, closed within three games of the AL East-leading New York Yankees with six games remaining.
Boston players shook hands and exchanged hugs and high-fives after the final out, then hustled into the clubhouse where the celebration really got wild.
Players ran around, spraying one another with champagne, posing for pictures, smoking cigars and dancing to hip hop music. When the champagne ran dry, they doused each other with beer and water.
Amid the party, though, there was a unified message: They aren't finished, yet.
"We're happy to be in the playoffs, but there's a lot more this team has to do," Damon said.
"This is the beginning. I think they feel that way, too," manager Terry Francona said. "But I want them to have their fun. It's very sweet."
Angels 5, Rangers 3
Arlington, Texas -- Chone Figgins had an RBI triple and then scored the go-ahead run on an infield grounder in the eighth inning, leading Anaheim over Texas in the opener of the key AL West series.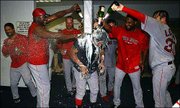 Bartolo Colon (17-12) allowed just four hits in eight-plus innings, becoming the first pitcher to beat Texas six times in a season.
After Figgins tripled in the eighth to tie the game at 3, he raced home on Darin Erstad's grounder.
First baseman Mark Teixeira fielded cleanly and threw home, but Figgins slid around the sweeping tag of Ken Huckaby and was able to touch the back corner of home plate with his fingertips.
Colon gave up consecutive singles to start the ninth, and Troy Percival allowed a single to the first batter he faced, loading the bases. But he then got two infield popouts and a strikeout for his 31st save in 36 chances.
Blue Jays 4, Orioles 1
Baltimore -- Gregg Zaun homered, and Orlando Hudson had three hits and an RBI, leading Toronto past Baltimore. Melvin Mora went 3-for-4 with a homer for the Orioles, whose four-game winning streak ended. The defeat means Baltimore (74-81) will complete a seventh straight season without a winning record. Orioles starter Sidney Ponson (11-15) allowed three runs and nine hits in six innings to fall to 8-3 since the All-Star break. Justin Speier worked the eighth, and Miguel Batista got three outs for his fourth save.
Tigers 5, White Sox 2
Detroit -- Dmitri Young hit a tiebreaking, two-run homer in the sixth inning, and Detroit made the most of three hits to stop a five-game losing streak. Gary Knotts (6-6) allowed two runs and five hits in 6 2/3 innings. Esteban Yan, Detroit's fourth pitcher, got two outs for his sixth save, completing a six-hitter. Jason Grilli (2-2) lost despite pitching a three-hitter for his first complete game in 13 major-league starts.
Athletics 6, Mariners 5
Oakland, Calif. -- Bobby Crosby's sacrifice fly with one out in the ninth scored Erubiel Durazo with the winning run. The A's maintained their one-game lead in the AL West over second-place Anaheim. Oakland held Ichiro Suzuki to one hit, leaving him five shy of George Sisler's 84-year-old record of 257. The Mariners have six games remaining. Octavio Dotel (5-2) pitched a perfect ninth, getting two strikeouts and Mark Kotsay's clutch catch against the center-field wall on a hard-hit ball by Jose Lopez.
Copyright 2018 The Associated Press. All rights reserved. This material may not be published, broadcast, rewritten or redistributed. We strive to uphold our values for every story published.