Jerusalem — Israelis killed seven Palestinians in attacks Monday, including a Gaza airstrike that killed one militant and wounded a militia commander, who vowed revenge from his hospital bed.
The Gaza attack came as each side pummels the other in the run-up to Israel's planned pullout from the crowded seaside territory next year.
An Israeli helicopter fired a missile at a car east of the city of Khan Younis, killing Ali al-Shaer, a member of the Popular Resistance Committees, an umbrella of dissidents from several militant groups.
But Israeli military sources, speaking on condition of anonymity, said the target was the other occupant of the car -- Mohammed Abu Nasira, southern Gaza commander of the group.
"The (Israeli) crimes will not pass without punishment," Abu Nasira told The Associated Press by telephone from the hospital, where he was being treated for serious burns. "I will continue my mission to terrorize the enemy (Israel), and we will win the battle."
Hundreds of people gathered around the white vehicle after the missile blast burned the passenger compartment, twisting the chassis but leaving the front half intact.
An Israeli military statement said only that the raid targeted "a vehicle carrying a senior operative" responsible for many attacks.
The Popular Resistance group was behind explosions that destroyed two Israeli tanks and is thought by some to have been involved in a similar blast that destroyed a vehicle in a U.S. Embassy convoy a year ago, killing three security guards.
Two other people were wounded in the airstrike, one of dozens Israel has directed at Palestinian militants in four years of violence. Israel calls them self-defense strikes against potential terrorists, but Palestinians and human rights groups denounce them as summary executions.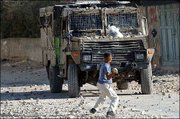 Israel plans to pull its 8,200 settlers out of Gaza late next year, and Palestinian militants want to show that they are driving the Israelis out by force. Israel is determined to keep hitting the militants to deter them from attacking after the withdrawal.
At nightfall, Palestinian gunmen kidnapped a producer for the TV network CNN at gunpoint, the network's correspondent, Ben Wedeman said. In a CNN broadcast from Gaza, Wedeman said the gunmen stopped a CNN van and extracted Riad Ali.
Wedeman, who said he also was in the van, did not know why Ali was kidnapped, and CNN was trying to win his release. A statement from CNN president Jim Walton on CNN's Web site Monday night said the network hadn't heard from the abductors.
Palestinian militant groups denied involvement. A statement on the Hamas Web site called for Ali's release, saying that journalists "are playing an important role to help the Palestinian cause."
Israeli Arab journalist Rafik Halabi said Ali had not been harmed. "What I know is that Riad, my good friend and colleague, is alive and well," Halabi told Army Radio.
The station said contact had been made with the kidnappers but gave no details.
Copyright 2018 The Associated Press. All rights reserved. This material may not be published, broadcast, rewritten or redistributed. We strive to uphold our values for every story published.