It's not something most teachers necessarily enjoy -- giving up their planning time to cover another teacher's class. But it happens daily, thanks to a shortage of substitute teachers in the Lawrence school district.
The shortage is attributed, in part, to higher pay for substitutes in nearby districts. Also, Kansas is dealing with a teacher shortage.
"When there's a teacher shortage, obviously, your substitute pool is going to diminish," said Mary Rodriguez, the Lawrence school district's human resources director. "We had the same problem last year, too."
The district, which has a daily average of 60 teacher absences, currently has 115 substitute teachers available. The goal is to have at least 150, but Rodriguez said 175 would be even better. This week, staff members are interviewing 22 potential substitutes.
Substitute teaching used to be a way to get a foot in the door for a job, said Linda Browning, who now substitutes after retiring as a full-time teacher in the Lawrence school district.
"More graduates are being hired right away," Browning said.
Browning usually substitutes in classrooms at Sunflower and Quail Run schools. On Monday, she filled in as a librarian at Quail Run.
There are two types of substitutes -- emergency and certified. Emergency substitutes must have 60 hours of college credit and must renew their substitute teacher certificate annually. A certified substitute has a teacher's certificate, which must be renewed every five years, and is allowed to do long-term substitute teaching.
Rodriguez said the district currently had more substitutes available than it did at the start of the year. On Aug. 26 the district had 49 people absent but only 45 substitutes to fill in.
Last week, on Thursday, the district needed 58 substitutes but only had 55.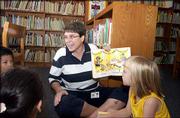 When one full-time teacher must step in for an absent colleague, they are paid an extra $14 for each hour.
"I think most people deal with it," said Sam Rabiola, a Lawrence teacher and president of the Lawrence Education Assn.
Money a factor
Then there's the question of money. Lawrence schools are competing with other nearby districts that offer higher substitute pay, Browning said.
"It's not that far of a drive to Blue Valley or Olathe," she said.
The district pays substitute teachers a beginning daily rate of $82. A long-term substitute can earn $115 a day.
Jim Hays, research specialist for the Kansas Association of School Boards, said Lawrence ranked in the top 60 districts for substitute pay. The median last year was $73.62 per day.
But Lawrence must compete with nearby districts in Eudora, Johnson County and Wyandotte County, which all offer more money to substitutes.
"If a substitute has a choice of coming here for $82 versus going to another district that pays more, chances are they're going to take the other employment," Rodriguez said.
Lawrence last increased its substitute pay in the 2001-2002 school year. Since then, Rodriguez said the district's budget committee had recommended an increase to the school board. The board's priority, however, has been to make fewer cuts in certified staff and district programs, Rodriguez said.
"There really wasn't any money in the budget to allow for increases in substitute pay, and we didn't get any increase from the state this year, so that plays a role in this," she said.
Rodriguez said the district tried to entice substitutes by calling them for their preferred days, buildings and classes.
Quicker processing
Martha Gage, director of teacher education and licensures for the Kansas Department of Education, said the department processed about 7,000 substitute teacher applications a year. About three-quarters are processed at the beginning of the school year, she said.
First-time applicants are put through a criminal background check done by the Kansas Bureau of Investigation.
"Last year, our turnaround time was probably six weeks for the criminal history background," Gage said. "But we're at about 11 days right now, so we've improved our procedures and the KBI has definitely improved their procedure. It's a much briefer effort this year than it has been any other year."
First-day salary rates for substitute teachers in area school districts vary more than $40.
District
Rate
Kansas City, Kan.
$112
Shawnee Mission
$95
De Soto
$90
Eudora
$90
Tonganoxie
$85
Lawrence
$82
Baldwin
$80
McLouth
$80
Perry-Lecompton
$80
Topeka
$70
The 2003-2004 median daily salary rate for certified substitute teachers among 302 Kansas school districts was $73.62. -- Source: Kansas Association of School Boards and the respective school districts
Copyright 2018 The Lawrence Journal-World. All rights reserved. This material may not be published, broadcast, rewritten or redistributed. We strive to uphold our values for every story published.