It's true the polls show President Bush leading Democratic challenger John Kerry.
But the polls are off, said Gary Hart, a former U.S. senator from Colorado who sought the Democratic Party's nomination for president in 1984 and 1988.
"At this point in time, they're not very accurate," he said, noting that many of his moderate Republican friends have assured him privately they'll not be voting for Bush.
"They're not going to show up in the polls," said Hart, who has advised the Kerry campaign in the past.
The military, too, is disenchanted with Bush's handling of the war in Iraq, he said.
"They're furious," Hart said. "But again, they're not going to show up in the polls."
Too close to call
Hart, who grew up in Ottawa, said the presidential race was too close to call.
"If the polls showed Sen. Kerry ahead by 15 points, I wouldn't believe that either," he said.
Hart, 67, will open the Hall Center for the Humanities 2004-05 lecture series at 7 p.m. Thursday at the Lied Center on Kansas University's west campus.
His lecture, titled "Security in the New Age of the 21st Century," will focus on the nation's need to develop domestic and foreign policies more in keeping with a post-Cold War world.
After the lecture, the first 2004 presidential debate will be shown on the big screen at the Lied Center. At its conclusion, Hart will moderate a panel discussion on the debate.
Before the lecture, Hart will sign copies of his 2002 book, "Restoration of the Republic: The Jeffersonian Ideal in 21st Century America," in the Lied Center lobby. The signing is expected to start at 6:30 p.m.
None of the evening's events -- book signing, lecture, debate, discussion -- requires tickets.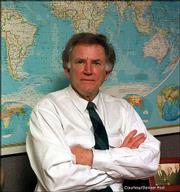 'Act of empire'
Hart called the invasion of Iraq a shortsighted "act of empire" that's justly being compared with the Vietnam War.
"Unless we can internationalize the conflict in the next one to three years, we're going to be there a long, long time," he said. "And there's no question it's going to cost us hundreds of billions of dollars and thousands more lives."
Hart served as co-chairman of the U.S. Commission on National Security and on Sept. 5, 2001, met with national security adviser Condoleezza Rice, warning the White House about the likelihood of a terrorist attack.
He also co-chaired a Council on Foreign Relations task force, which in January 2001 warned that the United States was vulnerable to a significant terrorist attack.
Hart marveled at the Bush administration's record deficits and go-it-alone foreign policies.
"I remember in 1976, (U.S. Sen.) Bob Dole said if you want to go to war, vote Democratic. That was the standard Republican Party line," Hart said. "And when I was in the Senate, it was the Republicans who railed against deficit spending. Now, it's totally flip-flopped."
Hart called Dole's comments questioning Kerry's war record "unfortunate," adding, "to my knowledge, he's not repeated them."
Appearing on CNN last month, Dole, who was seriously wounded in World War II, said Kerry "never bled that I know of" and likely didn't deserve his three Purple Hearts.
"That's been his reputation in the past -- making those kinds of comments," Hart said, referring to Dole. "It's a reputation that for the most part he's overcome. But it still pops up once in a while."
Asked about growing up in Ottawa, Hart compared his childhood with the television show "Happy Days."
"It was about as normal a small-town upbringing as you could ask for in the very best sense of the word," he said.
While running for the Democratic presidential nomination in 1988, Hart was forced to quit the race after he was caught in an extramarital affair. Photos surfaced of he with model Donna Rice aboard a boat called Monkey Business.
Hart and his wife, Lee, remain married. They live in Colorado.
Copyright 2018 The Lawrence Journal-World. All rights reserved. This material may not be published, broadcast, rewritten or redistributed. We strive to uphold our values for every story published.