Overland Park — It was a familiar tale for Free State High's football team Friday night at Shawnee Mission South District Stadium: good football, followed by one costly mistake, followed by a snowball effect.
With the exception of split-second mental lapses here and there, the Firebirds really haven't been playing bad football lately. But the snags in the smoothness are showing up on the scoreboard, and Friday's 35-14 loss to Shawnee Mission West was another disappointing way to finish a week of hard work.
Free State (0-4) garnered more total yards than the Vikings, did an admirable job containing SM West's lethal halfback, D.J. Barnett, and was able to rely adequately on the passing game with running back Brian Murphy hobbled by an ankle injury.
But a fumble late in the first half led to a fast, unexpected SM West touchdown that broke the 7-7 tie. The Vikings (3-1) wouldn't let up, scoring three third-quarter touchdowns to pull away.
"The momentum might have shifted," FSHS lineman Philip Weinmaster said. "We were really moving the ball, and we were stopping them. I really thought we'd come out (in the second half) and do the same thing."
Both of the Vikings' touchdowns came off Firebird turnovers in their own territory. Barnett, who finished with 94 yards on 22 carries, rushed for a 23-yard touchdown in the second quarter after an interception, and SMW quarterback Tyler Lawrence found tight end Andrew Patch on a 20-yard score after the late fumble.
"That's been our bugaboo," FSHS coach Bob Lisher said. "But we had 24 more minutes of football to play in the second half, and we didn't get it done in the second half."
Free State scored just once in the first half, when quarterback Nick Witmer found sticky-handed Nick Ayre in the corner of the end zone for a 28-yard touchdown. It was the fourth Witmer-to-Ayre hookup of the half, totaling 54 yards total.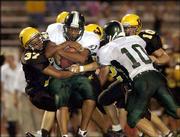 The Firebirds didn't score again, though, until the game long had been decided. Sophomore Ryan Murphy looked good quarterbacking the Firebirds much of the second half, giving Free State another running option out of the backfield if the situation presented itself. He rushed for 46 yards on nine carries, and had three completions for 38 yards, the last a seven-yard jump ball caught by sophomore Christian Ballard with 1:27 left in the game.
Sophomores like Ballard and the Murphy brothers are starting to get more and more varsity action as the weeks pass. Lisher said he'd rather them get seasoned on the sophomore and junior-varsity levels, but the junior and senior classes lack depth, and the sophomores' talent is too large to ignore.
"I'd like for them to go a year on the sophomore team to learn fundamentals, but when your numbers are down, you have to put them in there," Lisher said. "Hopefully that pays off in the future, but I want it to pay off now for our seniors."
Free State goes back to Thursday night games the next two weeks, starting with another tough Sunflower League game on the road against Olathe South.
"We need to focus on getting our offensive line to come off the ball consistently because we're not doing that," Weinmaster said. "We're going to go into this week, work hard and try to prepare the best we can."
Copyright 2018 The Lawrence Journal-World. All rights reserved. This material may not be published, broadcast, rewritten or redistributed. We strive to uphold our values for every story published.