Lew Perkins is guaranteed a tax-free retention payment of $1.3 million if he remains Kansas University athletic director through June 30, 2009, according to documents released Friday evening by the university.
If considered annually, the retention payment agreement boosts the worth of Perkins' compensation package to nearly $900,000 a year.
"Lew Perkins is one of the best athletic directors in the United States," Chancellor Robert Hemenway said. "He's well compensated, as you'd expect him to be. I think he's worth every penny he receives."
KU on Friday ended an eight-month court battle by releasing details of Perkins' contract, as well as the contracts of basketball coach Bill Self and football coach Mark Mangino. The coaches' contracts had not been an issue in the litigation.
In releasing the contracts at an early-evening news conference, Hemenway said the university would not appeal a Douglas County District Court decision announced Monday that ruled the Perkins contract documents were public under the Kansas Open Records Act.
The decision by Judge Jack Murphy was in response to a lawsuit filed in January by The World Company, which publishes the Journal-World and operates 6News. The Associated Press and Kansas Press Assn. later joined the litigation.
"We came to the conclusion this is not worth it" to appeal, Hemenway said. "People have been brooding around town that there's some deep, dark secret, that there's some special angel who's putting money into the athletic corporation to pay for Lew Perkins' salary. None of those things are true."
The university had earlier disclosed that the contract under which Perkins was hired in 2003 pays an annual base salary of $420,000 and guarantees him $100,000 each year for media appearances, such as radio or television shows.
The documents released Friday include the retention agreement, which pays Perkins $1.3 million if he stays through the six-year contract term. The money is to come from athletic department revenue such as ticket sales and television appearances, not from private sources.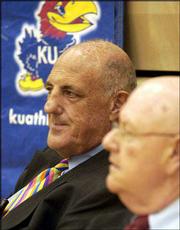 If Perkins, 59, doesn't remain at KU through the contract term, the money would remain with the athletic department.
The documents also show Perkins can earn an additional $25,000 each year as a performance bonus for such tasks as raising money for a new football office complex and fostering "a good relationship with local, regional and national media."
Hemenway called the $25,000 bonus "a small provision."
Of Perkins' annual $545,000 salary -- including the bonus but not the retention pay -- $165,000 comes from state funds, $210,000 from KU Athletic Corp. funds and $170,000 from Endowment Association funds.
Perkins' contract is renewed automatically each year through 2009, with an option of extending the contract through 2013. There is no buyout clause if Perkins opts to leave.
Should Perkins be terminated without cause before June 30, 2009, he would receive an after-tax payment of $216,667 for each year of service. The same provision applies if Perkins dies before June 30, 2009.
According to a computation example in his retention agreement, the guaranteed tax-free $1.3 million payment would be worth nearly $2.11 million to Perkins. For the six-year contract term, that amounts to $351,446 annually. When combined with Perkins' current salary, bonus and media payments, the average annual total is $896,446 to Perkins.
As a state employee, Perkins also is eligible to participate in the Kansas Public Employees Retirement System.
Highest pay in Big 12
His base salary of $420,000 is the largest among athletic directors in the Big 12 Conference, according to information gathered earlier this year by the Journal-World. The athletic directors at Texas A&M; and Nebraska each are paid $350,000, and the University of Missouri athletic director is paid $225,000.
Perkins' predecessor Al Bohl was being paid a base salary of $255,000 annually when he was fired in 2003. Bohl's predecessor Bob Frederick, who held the post from 1987 to 2001, was paid $166,303 in his last year.
According to the documents released Friday, Self, the basketball coach, is guaranteed annual compensation of $729,380, and a company to which he is connected will receive $400,000 a year for media services. The university also will provide an additional tax-free $120,000 annually he can claim in 2008.
Mangino, the football coach, is guaranteed compensation of $603,438, most of it for media appearances, according to the documents.
Both coaches also receive a variety of incentives and other perks such as cars, country club memberships and life insurance policies.
Hemenway is paid $282,000 annually, including $50,000 in private funds. Barbara Atkinson, executive dean of the School of Medicine, is paid $308,937.
Susan Twombly, an education professor who chairs the University Council, said she expected a mixed reaction from others in the university community when they learned of the Perkins contract's details.
"We all probably think these athletics folks make too much money," Twombly said. "But we also understand they're in a competitive market and you want to play and win and raise money. In a sense, this doesn't sound particularly shocking or unreasonable. The reality doesn't seem as bad as what the rumors are (about Perkins' contract)."
'Nothing to hide'
Perkins said he favored releasing his contract when he was hired in July 2003, but Hemenway asked him not to make the information public.
"One thing that's great about living in America, we live in a capitalistic society and people have the right to make money," Perkins said. "I'm proud of that, but I have nothing to hide. I've never had anything to hide."
Hemenway said he didn't want the contract to be released because of concerns that similar requests for contracts with other state employees could violate their privacy. He gave a hypothetical example of an employee who had a nervous breakdown and entered into a contract with KU saying he or she would enter therapy.
"This was not about Lew Perkins," Perkins said. "This was more about being in a state agency and giving out contracts."
Dolph C. Simons Jr., chairman of The World Company and editor of the Journal-World, applauded the university's decision, saying it would increase public confidence in the university.
"The public had the right to know the compensation, particularly when every year there's an appeal to the Legislature, 'The university needs more money,"' Simons said. "Saying, 'We're not going to tell you' is enough to make you suspicious."
Doug Anstaett, executive director of the Kansas Press Assn., agreed.
"We applaud this decision by officials at KU," he said. "It has been our contention since the beginning of this disagreement that such agreements are public records that must stand the scrutiny of the public, whose tax dollars fund these positions.
"At the same time, our thanks go to the management team at the Lawrence Journal-World, who appropriately challenged the denial of these records and invested a significant amount of money to see it through. The public should be grateful to them as well."
-- Staff writer Eric Weslander contributed information to this report.
Copyright 2018 The Lawrence Journal-World. All rights reserved. This material may not be published, broadcast, rewritten or redistributed. We strive to uphold our values for every story published.