New York — After clinching another postseason trip, there were no high-fives or celebratory handshakes in the New York Yankees' clubhouse. It was business as usual -- except for all the rookies dressed in Elvis outfits.
Derek Jeter hit a leadoff home run, Jon Lieber pitched into the eighth inning, and the Yankees clinched their 10th consecutive playoff berth with a 7-3 victory over the Tampa Bay Devil Rays on Thursday.
"It's nice, but we expect that coming in," Alex Rodriguez said.
John Flaherty also homered for the Yankees (96-57), who are assured of no worse than a wild-card spot. They're guaranteed of finishing among the top two in the AL East, and no team can finish second in the AL Central or AL West with more than 95 wins.
"We don't come in here saying, 'Let's get to the postseason,"' Jeter said. "We've made the postseason before. We want to win the division."
The Yankees go this weekend to Fenway Park for a three-game series.
While most of the Yankees were putting on suits for the trip to Boston, rookies such as Andy Phillips, Scott Proctor, Brad Halsey and Bubba Crosby were slipping into sparkly different-colored Elvis outfits -- complete with wigs and sunglasses -- while classic tunes from The King played over the loudspeaker as part of a team hazing ritual.
"I'm just glad I have all of my body parts covered," Proctor said with a laugh.
New York, given a standing ovation by fans following the final out, has the second-longest streak of consecutive trips to the playoffs, trailing only Atlanta, which is in position to clinch its 13th straight division title tonight.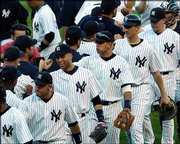 The Yankees took a low-key approach instead of celebrating clinching a playoff spot.
"We just don't do that," manager Joe Torre said. "If you're sitting in first place and celebrate just getting into the playoffs, you've already taken a psychological dip."
Orioles 9, Red Sox 7
Boston -- David Ortiz's fly ball headed toward the right-field fence and, for an instant, it appeared Boston would rally for another improbable win. Not this time. David Newhan caught Ortiz's bid for three-run homer at the edge of the warning track for the final out, and Baltimore hung on for a win that dropped Boston 41/2 games behind New York going into this weekend's Fenway Park showdown.
With the Red Sox down 9-5 with two outs in the ninth and the bases loaded, Manny Ramirez came to the plate against B.J. Ryan. Ramirez, whose 17 grand slams are second among active players, hit a two-run single that brought up Ortiz.
Baltimore had broken a 5-all tie in the eighth on pinch-hitter Jose Leon's bases-loaded single. Miguel Tejada hit a three-run homer for the Orioles, and Todd Williams (2-0) pitched a perfect seventh.
Rangers 5, Athletics 4
Arlington, Texas -- Hank Blalock's solo homer and David Dellucci's two-run double rallied Texas in the ninth inning, and the Rangers beat Oakland to complete a three-game sweep that moved them within two games of the AL West leaders.
Blalock's 32nd homer pulled the Rangers to within 4-3 against Octavio Dotel (4-2). Michael Young doubled for his fourth hit, and Mark Teixeira was intentionally walked, his team-record fifth walk of the game.
Brian Jordan hit into a forceout, and Dellucci followed with a liner to right that was just out of the reach of a diving Jermaine Dye.
Mark Kotsay, Adam Melhuse and Bobby Crosby homered for the Athletics (87-63), who lead both Texas and Anaheim by two games with 10 play. Oakland plays at the Angels this weekend, and the Rangers play host to Seattle.
Indians 9, Twins 7
Cleveland -- Cliff Lee won for the second time since July 16, and rookie Grady Sizemore hit a two-run homer, leading Cleveland over Minnesota. Lee (12-8) made it through 52/3 innings, allowing five runs and eight hits. The performance wasn't pretty, but the left-hander will take it after going 1-7 with a 10.03 earned-run average in his previous 11 outings.
Sizemore homered in the fifth inning as the Indians built a 7-2 lead and hung on to snap a four-game losing streak against the Twins. Josh Bard homered and had three RBIs, and Coco Crisp drove in two runs for Cleveland.
Copyright 2018 The Associated Press. All rights reserved. This material may not be published, broadcast, rewritten or redistributed. We strive to uphold our values for every story published.