"Grrr! AHHH! .... UGGGH!"
Nothing but gutteral noises and grunts were coming through my clenched teeth as I looked outside.
My dog had been digging again.
About 80 pounds of topsoil I had used to fill up her former holes last week was strewn all over the patio.
I walked outside and she came running up, wagging her tail.
"NO! DON'T DIG!" I said, loudly and slowly pointing at the two holes.
Bailey had no idea what I was yelling about and jumped back, wagging her tail, thinking I wanted to play. She must have dug the holes hours before.
I grabbed a shovel and a hoe and started filling in the holes again, stamping my frustration into the dirt. She ran over to the fence as a neighbor came by, walking his dog.
As I scraped the dirt off the patio, I wondered what technology I could find to stop my dog from doing all this recent digging.
Scent tech
In the last couple of weeks, I'd been trying black pepper, red pepper and chili pepper where she likes to dig near the foundation.
That seemed to work temporarily. I wondered what kinds of repellent products were made to keep dogs away.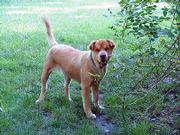 I found some online that included Bonide Shotgun Dog and Cat Repellent, REPEL Dog and Cat Repellent Spray; Dog Away Indoor Outdoor Repellent; XP 20 Dog & Cat Repellent Spray; Cat Away Indoor & Outdoor Repellent Pump Spray; BHave Indoor Outdoor Dog Repellent; Repel Away! Dog & Cat Repellent; XP 20 Dog & Cat Repellent Gel; Hoffman Dog & Cat Repellent.
All of them contain methyl nonyl ketone (the scent of oil of rue, which is sharp, acrid, herbal and fruity orange-like) as the active repellent.
But how well do they work?
According to the Colorado State University's Cooperative Extension office, methyl nonyl ketone, anise oil, Ro.pel®, and thymol are registered to repel dogs and cats, "but there is little objective evidence indicating that these chemicals are effective."
Shock collars
Mark Marks, a local veterenarian, said electronic collars that deliver a small voltage can be effective in getting a dog to change its behavior
There are two types of shock collars, he said.
One kind requires you to administer the shock if the dog is doing something you don't like.
One of the newest of those models is the Tri-Tronics Field Series Training Collar, which are used to train hunting dogs.
The collars come with a hand-held transmitter, to give you multiple levels of "stimulation," or voltage, so you can tailor the training to fit the dog.
The costs of the different Tri-Tronics models ranged from $299 to $399 for the single-dog models, with the higher-end models giving you more of a range of voltage.
Setting boundaries
Marks said the other kind of shock collar is triggered by the dog's movements outside of a set boundary, rather than by the owner holding a device.
If the dog gets too close to the boundary, it gets an audible sound warning. Then if the dog goes closer or outside the boundary, it gets a shock.
"Both (shock collar) systems would have their pluses and minuses," Marks said. "Probably the one with the proximity-activated thing would make the most sense, if you're having a big problem with them digging."
One product I found online was called Instant Fence, a portable radio transmitter. It emits a constant radio signal, which creates an invisible fence or "safe zone" within a 90-foot radius (one-half acre).
If the dog leaves the "safe zone" it will get a shock for 30 seconds, or until it comes back within the boundary. The cost is $299. You can buy an additional collar for $134.99.
"Sounds like cruel and unusual punishment," my daughter, Bonnie, said when I told her about the shock collars. "I can't see doing that to Bailey."
I agreed.
Sound devices
At the High Tech Pet Products Web site, I also found a few products that used sound, not electricity, to train a pet. ( www.hitecpet.com)
For example, Sofa Scram, a 9-volt battery-powered mat, emits a 85 decibel beeps if a pet walks on it. You can lay the mat out on the sofa, chairs, counter tops, beds, in front of doorways and trash cans. It cost about $30.
Another is the hand-held Pro Trainer Plus Electronic Cat and Dog Sonic Obedience Trainer. It gives you four different training tones. Three obedience tones are provided to teach your pet specific behaviors.
"A rapidly pulsating, irritating "NO!" tone is provided to deter barking, jumping, digging and other unwanted behaviors."
Another device using sound was the Yard Barrier Wireless Fence, which sold for $56.63. If the dog comes near an area you don't want her near, a loud blast will sound when the pet approaches. The range is adjustable from one to 35 feet. The pet wears a light-weight Pet Collar Transmitter (about $8).
Going low-tech
"Boredom is a big thing," Marks had told me.
Marks said one of the reasons that my dog might be digging was for lack of anything to do.
I realized that since school started last month, none of us were around much during the day.
"Take them on walks. Engage them in an activity that kind of uses up some of their energy so when they're finished with it, they're more ready to rest," Marks had said.
I decided to skip the expensive high-tech solutions, involving sprays, shock collars and sonic blasts.
Instead, I thought I'd try something low-tech -- I grabbed the leash.
Copyright 2018 The Lawrence Journal-World. All rights reserved. This material may not be published, broadcast, rewritten or redistributed. We strive to uphold our values for every story published.