About 30 minutes after Kansas University's men's golf team had wrapped up the Kansas Invitational team title Tuesday, a mobile gallery of 19 golf carts continued to cruise the path at Alvamar Golf Club.
Senior Kevin Ward's 3-under-par 69 in the final round helped close out the team championship, but he still was in hot pursuit of the individual title and his teammates, family and friends who packed the carts followed close behind to witness every shot.
Two holes into a playoff with Kansas State's Matt VanCleave, Ward chipped out of thick grass to within two feet of the hole. His easy putt for par wrapped it up and capped an all-around stellar day for the 24th-ranked Jayhawks.
"I played well all day and had a hiccup on No. 17," Ward said of his only stumble of the day. "That was it. I made five birdies, no bogeys and one double all day."
Ward trailed VanCleave and Texas-San Antonio's John Elizondo by one stroke after 36 holes Monday, but he was 3 under after only seven holes Tuesday and led at the turn. VanCleave kept pace, however, and pulled even when Ward double-bogeyed No. 17.
"I didn't even pay attention to what Matt was doing, and all of a sudden I thought, 'I think we're tied right here,'" said Ward, whose three-round total was 212. "I just knew that I had to hit a couple of good shots down the stretch, and I did that. My hat's off to him though. He played really well. He wasn't having the best ball-striking day of his career, but he came through it because his putting and his chipping were phenomenal."
Ward wasn't the only Jayhawk who fired a solid round, however. He was quick to point out senior Andrew Price's strong showing, as well as a fabulous finish by teammate Jason Sigler. Price fired a 70 and finished fourth with a 216. Meanwhile, Sigler didn't crack the top 10, but his third-round 74 was capped by an eagle at No. 17 and a birdie on No. 18 that gave KU a cozy lead in the team standings.
Kansas was 1 under as a team with a 287 on Tuesday and ended with a three-round team total of 868, nine strokes ahead of runner-up K-State. UTSA was third with 882.
"I didn't hit my best, but I'm pleased that I finished fourth and I'm happy the team won," said Price, who won last year's Kansas Invitational. "Everyone's kind of getting there, and I think we're going to be all right."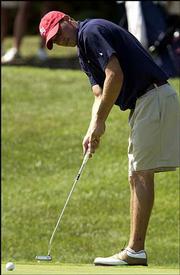 Three Jayhawks competed individually and earned top-20 finishes. Juniors Ryan Rainer and Pete Krsnich tied for 12th with three-round totals of 220, while sophomore Barrett Martens struggled with a 78 but tied for 17th after playing well Monday.
KU coach Ross Randall said he was pleased with the progress his squad made, but said it still has to become more consistent top to bottom every day in order to compete at larger tournaments later in the season.
"This season is real young, and we've still got a lot of work to do," Randall said, "but I think when we are playing we'll. We're going to be a very good team.
"The golf course played tough today, it really did. The pin positions were very difficult, but overall the guys did a really good job. It was a nice team effort, and 1 under par today as a team is a really good score here because this is by far the most difficult Alvamar has played in quite a while."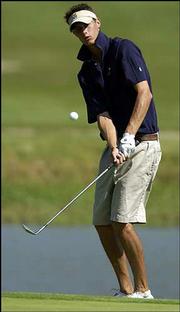 Copyright 2018 The Lawrence Journal-World. All rights reserved. This material may not be published, broadcast, rewritten or redistributed. We strive to uphold our values for every story published.