A shaky morning and a solid afternoon left Kansas University's men's golf team a stroke off the lead Monday after the first day of the Kansas Invitational at Alvamar Golf Club.
The Jayhawks' five golfers combined for a 36-hole score of 581, just behind Texas-San Antonio's 580. K-State was third at 583 in the 13-team field.
The final 18-hole round begins at 8:30 a.m. today.
"We definitely need to put better scores on the board in the morning," KU coach Ross Randall said.
Inconsistency plagued the Jayhawks on Monday, just as it did last week when they struggled to a 12th-place team finish at The Ridges Intercollegiate in Jonesborough, Tenn. That's the same problem that hindered KU for much of the 2003-2004 campaign, but it's surprising this time after most of the Jayhawks played flawless golf all summer.
"We're trying to continue to do what we did this summer," said senior Kevin Ward, who won three tournaments during June and July, including one at Alvamar. "If we can do that, if everybody just goes out and plays pretty steady, I think we've got a good shot at doing well. We can't control what anybody else is doing, but if we do the things we need to do we'll have a chance coming down the stretch."
KU's one constant throughout the day was Ward, who shot a morning-round 71, then shot 72 in the afternoon. His two-round total of 143 has him in a three-way tie for second, one stroke behind K-State's Matt VanCleave and Texas-San Antonio's John Elizondo.
"Hopefully I can go out and pick up where I left off today," Ward said. "I played pretty well but didn't score as well as I would've liked."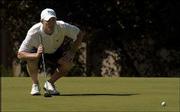 The rest of the Jayhawks' five-man squad had average days, blending a good round with a weaker one. Senior Andrew Price, last year's Kansas Invitational winner, fired an opening-round 70 but slumped to a 76 in the afternoon, and junior Jason Sigler shot a 75 and a 76.
Sophomores Tyler Docking and Gary Woodland hit both ends of the spectrum with frustrating early rounds and strong afternoons. Docking followed his 76 with a 72, while Woodland's turnaround was more dramatic. Woodland, one of the top drivers in collegiate golf, battled back pain in shooting a first-round 80 before logging a 69 -- the second-best round of the day -- in the afternoon.
"He's got so much talent that he can throw those 69s in there," Ward said of Woodland's resiliency, "and it's huge. That's real big for the team."
A pleasant surprise for the Jayhawks was sophomore Barrett Martens. The Platte City, Mo., native competed individually Monday after struggling last week, but followed his decent 75 with a sizzling 68 and earned a share of second place at 143.
"Some of the guys made good comebacks because we got off to a rocky start this afternoon." Randall said. "We're certainly not playing well yet, but hopefully we're close enough that we can be competitive tomorrow."
Copyright 2017 The Lawrence Journal-World. All rights reserved. This material may not be published, broadcast, rewritten or redistributed. We strive to uphold our values for every story published.