Baldwin — Part of the rebuilding effort for Baker University's football team has involved instilling guts back into the program.
First-year BU coach Mike Grossner couldn't have made that clearer Saturday night at Liston Stadium as his Wildcats pulled out all the stops in a 21-17, come-from-behind victory over Missouri Valley College.
Baker tried two fake punts, an onside kick, threw the ball up for grabs often to talented receivers Ryan Pitts and Keenan Ganz and frequently went for it on fourth-and-anywhere.
Then there were the two fourth-quarter turnovers forced by the Wildcat defense that turned the game completely in Baker's favor.
"That was the plan going into the game," Grossner said. "They knew we were gonna fake punt and onside-kick. They knew we were gonna do it all, let it out tonight and play hard. And it was fun. The kids like that."
Missouri Valley bolted to a 10-0 lead after the first quarter on Gary Burley's 38-yard field goal and Manny Dent's two-yard touchdown run. Meanwhile, Baker's offense stalled on its first four possessions with a fumble, failed fake field goal and two punts.
"Early on, when we ran our plays, it was drawn up perfectly," junior quarterback Brian Sheppard said. "They couldn't really stop us, but we had a couple of penalties, a couple of missed routes, a couple of bad balls. When we pull it together, nobody can stop us."
The Wildcats jelled late in the second quarter. The offense took over near midfield two minutes before halftime. Thirteen plays later, Sheppard lofted a 17-yard pass to junior receiver Ryan Pitts in the back-right corner of the end zone. Pitts pulled it down in double-coverage and sent the Wildcats into halftime trailing just 10-6 after a failed extra-point try.
Dent scored on a six-yard run early in the second half, but MVC's 17-6 lead wouldn't stand. Baker forced two turnovers in the fourth quarter -- an interception by freshman D.J. Carter and a fumble forced by senior Luke Thompson -- that led to a one-yard touchdown run by Sheppard and a two-yard scoring dive by senior running back John Reeves. Those scores gave the Wildcats the lead for good.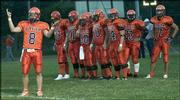 "They seemed to rise to the occasion," Grossner said, "and tonight I'm glad it was that type of tough game because you kind of figure out what you're team's all about, and we needed one of those games."
Reeves finished with 123 yards rushing on 30 carries. Sheppard completed 12 of 25 passes for 172 yards.
Baker next will play at 1:30 p.m. Saturday at Mid-America Nazarene in Olathe.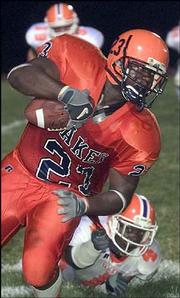 Copyright 2018 The Lawrence Journal-World. All rights reserved. This material may not be published, broadcast, rewritten or redistributed. We strive to uphold our values for every story published.