Ozark Riverways, Mo. — Most of the 1.5 million visitors who throng here each year arrive in the summer heat, to canoe in federally protected rivers fed by dozens of springs that are a chilly 50 degrees.
But locals with deep roots in Missouri's southeast Ozarks, along with those who manage this unique national park, say the best time to visit is fall. That's when the sky turns a brilliant cobalt blue, and dry, cool temperatures replace the summer swelter.
Come in October, they say, when the place clears out and wildlife emerges -- like the great blue heron and its young seen soaring over the Current and Jacks Fork rivers' confluence on a recent quiet weekday. October is also when the hickory, oak, dogwood and maple trees in the Ozark hills are aflame in oranges, reds and yellows.
Where to see the colors? Anywhere in the Ozark National Scenic Riverways, 134 miles of the two protected rivers and 80,000 acres of forest, field and glades that straddle four counties in south-central Missouri. "You can't lose," said Bill O'Donnell, the park's interpretive naturalist.
Thick bluffs of hardwood trees that once competed with native pine form a natural backdrop for the Current and Jacks Fork rivers, which are prized by canoeists for their clarity and beauty.
Plans to dam the rivers had been bandied about since the 1930s. But in the 1950s, a conservation movement emerged, and in August 1964 President Johnson signed a law preserving these rivers and springs, which include the largest number of first-magnitude springs (springs that discharge at least 65 million gallons a day) in any one place in the world. That law created the nation's oldest federally protected river system.
But in the early part of the 20th century, the land surrounding these waters was barren, denuded of virgin pine forests and the critters that once inhabited them.
Timber barons invade
As early as the 1820s, big stands of pine in the Ozark highlands were harvested and milled, said James E. Price, National Park Service archaeologist and anthropologist, who traces family roots in the area to 1814.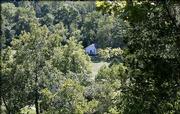 Logging was interrupted by the Civil War, only to resume with gusto in 1882 by timber barons who pushed west with the railroads after deforesting Eastern woodlands.
Companies such as the Pennsylvania-based Ozark Land and Lumber Co. and Missouri Land and Mining Co. exploited the Ozarks' pine forests for railroad ties and building materials. The Ozarks, the last big timber stand before the prairies, provided millions of board feet of virgin pine for building throughout the Great Plains until there was nothing left to log by 1915.
"The photos in our collection look like a moonscape," Price said. "The hills are totally barren. What you see as beautiful forest today was totally denuded and laid to waste. The treetops caught on fire and killed the undergrowth. The locals finished it off."
Price said his father, now 86, witnessed this world of barren hills and no wildlife, when soil and gravel tumbled into the rivers, making them less navigable than in the 19th century, and creating the sandbars that are now used as camping spots.
Residents hung on despite the devastation. Inspired by naturalist Aldo Leopold, who had a cabin on the Current River, and others in the conservation movement, locals and the young men of President Roosevelt's Civilian Conservation Corps began to reforest and re-establish wildlife.
For more information about the riverways, see www.nps.gov/ozar or call (573) 323-4236. Trails, springs and all natural areas of the park are open daily year-round.Getting there: From St. Louis, take Interstate 44 southwest about 70 miles to the Cuba exit. Take Missouri Highway 19 south about 85 miles to Eminence, just west of where the Current and Jacks Fork rivers meet.Leaf-peeping: Recommended routes include Missouri 19 from Salem to Alton, Skyline Drive off Missouri Highway 103 between Van Buren and Big Spring, and K Highway at Akers.Nearby attractions:¢ Alley Spring: A few miles west of Eminence on Missouri 106, this historic site is one of the Ozarks' most scenic spots. The park features a spring producing 81 million gallons of water a day, a barn-red flour mill, general store and one-room school. The mill and other buildings are open weekends through October. A "Haunting in the Hills" on Oct. 9-10 will include Ozark storytelling, demonstrations, old-time Ozark music, tours of the old Alley graveyard and a candlelit "Creatures of the Deep" walk along the spring. Eminence offers a craft show the same weekend.¢ Big Spring: Four miles south of Van Buren on Missouri 103 off U.S. Highway 60, this is the state's largest spring, with an average daily flow of 276 million gallons of water. Here, young men of the 1930s-era Civilian Conservation Corps built the old-English style Big Spring Lodge, which overlooks the Current River. After Labor Day, the lodge is open for dining from 2 p.m. to 9 p.m. Fridays, 8 a.m. to 9 p.m. Saturdays and 8 a.m. to 3 p.m. Sundays, through November. Cabins can be rented seven days a week through November. Phone: (573) 323-4423.Lodging: Motels, cabins, bed and breakfasts, campgrounds and canoe outfitters abound.For help with accommodations and other information, visit eminencemo.com.
Healing the landscape
Before that, in the early 1920s, Missouri established state parks at four of the springs that fed the two rivers: Round Spring, Montauk Springs, Alley Spring and Big Spring.
"They went from an exploitive to a more tender treating of the landscape," Price said. The Ozarks, which he described as "a very generous and forgiving environment," responded, and nature healed itself.
Forests that were predominantly pine are now mostly deciduous hardwood with a sprinkling of conifers. O'Donnell, the park's naturalist, said in the fall a sea of orange oaks was punctuated by the golds and reds of several species of maple, dogwood, redbud, ash and tulip tree, along with sassafras and sumac.
"The best time to be here, in general, is the second week of October, but that's subject to rain or a cold snap," he said. "The month of October is stunning."
The landscape is also painted with Missouri wildflowers, whose colors change with the seasons.
The forests in and around the Ozark National Scenic Riverways support deer, foxes, owls, raptors, wild turkey, an occasional bobcat and 196 species of birds. There even have been sightings of black bears, but unlike the bears found in some other national parks, these creatures haven't yet acquired a taste for human visitors' groceries.
"They're wimps," O'Donnell said.
The rivers' clean, clear waters remain the park's central attraction, of course, providing opportunities for canoeing, johnboating, tubing, swimming and fishing. Underlying the area are soluble limestone and dolomite. As rain seeps through the soil, it becomes acidic, penetrating the rock's cracks and joints and dissolving it. Over millennia, it has produced an underground that resembles Swiss cheese, adding to Missouri's reputation as the Cave State.
More than 300 caves have been documented within the park's boundaries. Seven major springs, and 51 others, charge the Current and Jacks Fork rivers with hundreds of millions of gallons of water each day.
Big Spring, one of the largest in the country, has an average daily flow of 276 million gallons of water. That's enough water to fill the St. Louis Cardinals' Busch Stadium in 33 hours, O'Donnell said.
Copyright 2018 The Associated Press. All rights reserved. This material may not be published, broadcast, rewritten or redistributed. We strive to uphold our values for every story published.