Lubbock, Texas — It took awhile for Texas Tech to get started Saturday, but it was worth the wait.
The Red Raiders failed to score on their first seven drives and fell behind 21-0, but then scored 56 straight points in a 70-35 victory over TCU.
"I wasn't happy," Tech coach Mike Leach said of the slow start. "We didn't change plays from the first quarter to the second quarter. The plays were the same. It was chemistry and the way everyone came together."
The Red Raiders (2-1) came together behind the nation's leading passer. Sonny Cumbie completed 30 of 50 passes for 441 yards and four TDs. Taurean Henderson added three scoring runs, and Jarrett Hicks caught eight passes for 211 yards and a TD in the first meeting since the teams were Southwest Conference rivals.
Cumbie entered the game as the nation's leading passer and is averaging 453 yards in his first three starts in Tech's wide-open passing scheme. He follows prolific Tech passers Kliff Kingsbury and B.J. Symons.
"It's tough when you look up there and you're down 21-0," said Cumbie, who was intercepted twice. "You want to press and make something happen, but you can't score 21 points on one drive, so you have to just take it one possession at a time."
Henderson ran for TDs of 4, 6 and 2 yards. Hicks, who was third in the nation in receiving yards per game coming in, had his third straight game of 150 yards or more.
No. 2 Oklahoma 31, Oregon 7
Norman, Okla. -- Adrian Peterson ran for 183 yards and two touchdowns, becoming the first Oklahoma freshman to run for at least 100 yards in each of his first three games. Peterson, who had 24 carries, scored twice in the second half to help the Sooners (3-0) pull away from the Ducks (0-2). Jason White was 17-for-23 for 213 yards and a touchdown, and Donta Hickson added a 25-yard touchdown run. Starting tailback Kejuan Jones ran 11 times for 41 yards but didn't play after the first quarter.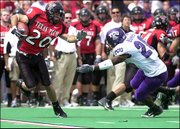 Kansas State 40, Louisiana-Lafayette 20
Manhattan -- Darren Sproles rushed for a team-record 292 yards on 38 carries, leading Kansas State. Sproles broke the Kansas State record of 273 yards he set against Missouri last year on 43 carries. Held to just 31 yards the week before in a 45-21 loss to then-unranked Fresno State, Sproles shredded the Ragin' Cajuns for 195 yards on 23 carries as the Wildcats (2-1) took a 20-7 halftime lead.
Missouri 48, Ball State 0
Columbia, Mo. -- Missouri scored four touchdowns in the second quarter. Brad Smith passed for two touchdowns and ran for another, accounting for 296 yards. Damien Nash scored twice on runs and on a 43-yard pass play. Missouri (2-1) has won eight straight at home by an average margin of 28 points. The Tigers scored at least 37 points in each of the wins. The margin of victory was Missouri's largest in a shutout since a 48-0 win over Kansas University in 1986.
Iowa State 48, N. Illinois 41
Ames, Iowa -- Freshman Todd Blythe caught three touchdown passes, the last a four-yarder for the go-ahead score with 5:13 remaining to lift Iowa State. In a game that had huge momentum swings both ways, Iowa State (2-1) scored 28 straight points to erase a 14-point second-half deficit. Northern Illinois (1-2) had come from 13 down in the first half to take the lead.
Oklahoma State 59, SMU 7
Stillwater, Okla. -- Donovan Woods threw two touchdown passes and ran for another, and Vernand Morency rushed for 116 yards to lead Oklahoma State. Darrent Williams had 215 return yards, and D'Juan Woods caught two touchdown passes for the Cowboys (3-0), who routed the Mustangs (0-3) for the third straight year.
Nebraska 24, Pittsburgh 17
Pittsburgh -- Nebraska capitalized on four Pittsburgh turnovers and batted down a pass in the end zone on the final play to preserve a win in the first meeting of the teams since 1958. The win kept Nebraska (2-1) from dropping below .500 for the first time in 23 years. The Panthers (1-1) drove inside the Nebraska 20 in the closing minutes, but could not score.
Colorado 52, North Texas 21
Boulder, Colo. -- Bobby Purify ran for 122 yards and three touchdowns to lift Colorado (3-0). Purify's first score, midway through the first quarter, ended Colorado's streak of 114 minutes, 47 seconds without an offensive TD.
Copyright 2018 The Associated Press. All rights reserved. This material may not be published, broadcast, rewritten or redistributed. We strive to uphold our values for every story published.