Auburn, Ala. — The ball finally got to Courtney Taylor, the flag rescued John Vaughn, and No. 14 Auburn proved itself an SEC contender.
Jason Campbell hit Taylor for a 16-yard touchdown pass with 1:14 to play, and Auburn got two chances to kick the winning extra point in a 10-9 victory over No. 5 LSU on Saturday.
"It was coming so slow. I was just saying, 'Come on, get here ball,'" said Taylor, whose first career touchdown catch proved huge.
Then, he watched in shock as LSU nearly was saved again by a missed extra point. Vaughn's first PAT attempt went wide left after a low snap, but Ronnie Prude was called for a personal foul, giving Auburn (3-0, 2-0 Southeastern Conference) another shot.
"(There) couldn't possibly be a bigger relief than that little yellow thing on the ground," Vaughn said.
Vaughn drilled his next try through the uprights when holder Sam Rives saved another bad snap for Auburn's 191st consecutive made PAT. It prevented a repeat of LSU's season opener, when Oregon State's Alexis Serna missed his third extra point of the game in overtime for a 22-21 LSU victory.
LSU's Ryan Gaudet instead missed the kick following LSU's touchdown on a brilliant opening drive that definitely was not a sign of things to come.
"That's a really tough game for our players," LSU coach Nick Saban said. "We just had a lot of opportunities we squandered."
Auburn's final drive provided just about the only offensive dramatics. Campbell led a 12-play, 59-yard march that milked most of the remaining 6:38 off the clock.
Ronnie Brown had a 20-yard run, and Campbell and Taylor did the rest, including a 14-yard pass on fourth-and-12 from the 28.
The score came on third-and-12, with Campbell finding Taylor in the back of the end zone.
No. 3 Georgia 13, Marshall 3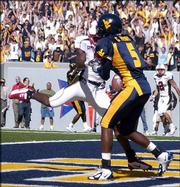 Athens, Ga. -- The Georgia defense made up for another lackluster offensive showing, holding Marshall to seven first downs.
Marshall (0-3), which held No. 9 Ohio State to 79 yards rushing in a 24-21 loss last week, shut down a Georgia running game that was without its top two backs. The Bulldogs (3-0) had 41 carries for 146 yards, most coming late in the game.
No. 4 Miami 48, Louisiana Tech 0
Miami -- Frank Gore and Tyrone Moss combined to run for three touchdowns. The Hurricanes showed no sign of a letdown after last weekend's huge win against in-state and conference rival Florida State.
Miami (2-0), which held the Seminoles to 165 yards last week, was even more impressive defensively against Louisiana Tech (2-1). The Hurricanes finished with six sacks and three forced fumbles, and allowed just 183 yards over 61 plays.
No. 7 West Virginia 19, No. 21 Maryland 16, OT
Morgantown, W.Va. -- Rasheed Marshall threw a seven-yard scoring pass to Chris Henry in overtime, moving the Mountaineers to 3-0 for the first time since 1996.
Maryland (2-1) lost to West Virginia for the first time under coach Ralph Friedgen, who played it safe in overtime and paid the price.
The Terps faced a fourth-and-short on their first overtime possession, and sent out kicker Nick Novak for a 33-yarder to make it 16-13.
Marshall found Henry on a slant pattern over the middle on third down for the winner.
No 8. Florida State 34, UAB 7
Tallahassee, Fla. -- Leon Washington ran for 104 yards and a touchdown, and Florida State sacked Darrell Hackney eight times to rebound from a disappointing loss to Miami.
After the offense failed to score a touchdown against the Hurricanes in a 16-10 loss, the Seminoles went 74 yards on their opening drive for a score.
Florida State (1-1) had 489 yards of offense, and UAB (1-1) didn't force a punt until late in the fourth quarter.
No. 9 Ohio St. 22,
N.C. State 14
Raleigh, N.C. -- Ohio State made up for a shoddy day offensively by forcing five turnovers, and Mike Nugent tied a school record with five field goals.
A week after Nugent booted a 55-yarder on the final play to beat Marshall, Ohio State (3-0) needed more good fortune to get by the Wolfpack (1-1) for the second straight season. The Buckeyes managed only 137 yards of offense -- 35 on their first drive -- and converted only two of their 16 chances on third down.
No. 13 Florida 30,
No. 11 Tennessee 28
Knoxville, Tenn. -- James Wilhoit kicked a 50-yard field goal with six seconds left to give Tennessee a thrilling victory.
Wilhoit redeemed himself after missing an extra-point try less than five minutes earlier that would have tied the game.
Tennessee was trailing 28-21 in the fourth quarter, when freshman Erik Ainge completed a 13-yard touchdown pass to Jayson Swain with 4:17 left. But Wilhoit, a sophomore who had never missed a PAT in his career, was wide right on the kick.
All Florida had to do was run out the clock, but the Gators (1-1, 0-1 Southeastern Conference) had to punt with 55 seconds left.
It was enough time for the Vols (2-0, 1-0) to rally for their first win over Florida at home since 1998, the year they won the national championship.
Ainge completed passes of 21 and 7 yards to Chris Hannon to set up the field goal.
No. 12 Virginia 51, Akron 0
Charlottesville, Va. -- Defensively dominant and offensively unstoppable, Virginia has started the season with three straight wins for the first time since 1998.
Wali Lundy ran for three touchdowns for the third straight game, and Marques Hagans threw two scoring passes to Heath Miller as Virginia led 34-0 by halftime, then held the Zips (0-3) to 16 yards in the second half.
No. 15 Utah 48,
Utah State 6
Logan, Utah -- Alex Smith threw for one touchdown and ran for another, and Utah converted three Utah State turnovers into touchdowns. Smith was 9-for-12 for 163 yards in limited duty for the Utes (3-0). The Utah defense held Utah State (1-2) to 48 rushing yards on 35 attempts, and 295 total yards.
No. 17 Michigan 24,
San Diego State 21
Ann Arbor, Mich. -- Braylon Edwards caught eight passes for 130 yards and two touchdowns for Michigan.
The Wolverines (2-1) bounced back after last week's loss at Notre Dame, but it wasn't easy. The Aztecs (1-1), three-touchdown underdogs, forced four turnovers and missed two fourth-quarter field goals that could have tied the game.
San Diego State's defense, ranked eighth nationally a season ago, kept the Aztecs in the game in the second half, but Garrett Palmer could not convert 46- and 49-yard field-goal attempts.
No. 20 Wisconsin 9, Arizona 7
Tucson, Ariz. -- Booker Stanley carried 30 times for a career-high 135 yards, including a seven-yard run for Wisconsin's only touchdown, and the Badgers (3-0) rallied in a game delayed 88 minutes in the second quarter because of lightning. Mike Allen, who earlier missed a conversion try, kicked a 23-yard field goal with 3:47 to play for what proved to be the game-winning points. Arizona (1-2) drove to the Wisconsin 25 on its last possession, but a false-start penalty pushed the Wildcats back. Nick Folk missed a 57-yard field goal with 43 seconds to play.
No. 23 Boise State 47, Texas-El Paso 31
El Paso, Texas -- Jared Zabransky threw for 392 yards and two touchdowns to lead Boise State to victory over Texas-El Paso, extending the nation's longest winning streak to 14 games. Zabransky went 26-for-37 with two interceptions, and Antwaun Carter ran for two touchdowns for the Broncos (3-0) in their Western Athletic Conference opener. Lawrence Bady had seven catches for 149 yards, and Quinton Jones and James Drisan each caught touchdowns.
No. 25 Memphis 47, Arkansas State 35
Jonesboro, Ark. -- Tim Goodwell forced a fumble and returned it 10 yards for a touchdown with 2:22 left, and Memphis scored 21 points in the final three minutes. Goodwell's hit on Arkansas State quarterback Nick Noce that forced the fumble gave the Tigers (3-0), ranked for the first time, their first lead of the game, 40-35. After Scott Vogel intercepted a deflected pass with 1:59 left, DeAngelo Williams added a 16-yard scoring run with 59.7 seconds remaining. Williams ran for 144 yards.
Copyright 2018 The Associated Press. All rights reserved. This material may not be published, broadcast, rewritten or redistributed. We strive to uphold our values for every story published.