One hundred years ago, Lawrence celebrated its first 50 years with a week of speeches, parades and a carnival that parked its merry-go-round in the middle of Ninth and Massachusetts streets.
"During the week, there have been thousands of people in Lawrence," reported the Lawrence Weekly World newspaper. "They came from the surrounding country and small towns."
The Douglas County Courthouse and the Carnegie Public Library were brand new. Both played host to open houses.
The week's keynote speaker was George R. Peck, then a former U.S. attorney for the state of Kansas and, according to the newspaper, "probably one of the best orators in the United States."
Peck knew his audience. The Civil War had ended almost 40 years earlier, but the city's role in the conflict had not been forgotten.
"It was perhaps ordained --who can tell? -- that the Free-State cause should have its pivot here by Mount Oread; and that those who struggled to make Kansas free should look this way always for encouragement, for light, and, more than all, for that wise counsel without which good causes languish and fail."
Lawrence's role in the war, he said, could not be exaggerated.
"Excepting only Plymouth --if, indeed, she ought to be excepted -- there is no soil on this continent so sacred as that upon which we stand today," Peck said, referring to Plymouth, Mass., and the arrival of the pilgrims in 1620.
The Lawrence Weekly News praised Peck's speech, noting it was "as scholarly as it was eloquent. It was a masterly production all around."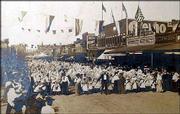 Also, Peck's message -- that freedom, indeed, had been worth fighting for -- was one people wanted to hear.
"Memories of the war were still fresh," said Lawrence historian Karl Gridley. "A lot of veterans were still around in 1904."
In 1904, the Civil War had been over for 39 years.
Today, by comparison, the Korean War has been over for 51 years; the Vietnam War for 29.
City's connections to war
Lawrence's ties to the Civil War are well-known:
Most of the city's earliest settlers were sent here by the New England Emigrant Aid Company in an attempt to outnumber the pro-slavery Missourians, who, in the wake of the Kansas-Nebraska Act, made it clear they weren't above stuffing the territory's ballot boxes, guns in hand.
Congress passed the Kansas-Nebraska Act in May 1854, opening the two territories to settlement. Three months later, Massachusetts Emigrant Aid-financed settlers arrived in Lawrence, forming the Lawrence Town Company on Sept. 18, 1854.
Militant abolitionist John Brown visited Lawrence frequently, gearing up for his often-bloody encounters with pro-slavery forces from 1855 to 1859.
Sheriff Samuel Jones, a Missourian, and several hundred pro-slavery men raided the city in May 1856, destroying the Eldridge Hotel and the city's two newspapers.
Leading a force of 300 or 400 men, Confederate guerrilla William Quantrill sacked Lawrence on Aug. 21, 1863, killing about 143 men and boys, leaving most of the city in ruins.
In 1863, Gridley said, "Lawrence's population was somewhere around 3,000 people, which says something about the growth that was going on and why it was despised by the pro-slavery forces."
At its founding, Lawrence had about 300 people, Gridley said, "most of them living in hay tents and log cabins houses. By 1863 -- about the middle of the Civil War -- the population was approaching 3,000. Lawrence was a booming. That's a tenfold increase in nine years."
Boom, then bust
After the war, Lawrence boomed even more.
"After the Civil War, in the 1870s and 1880s, is when Lawrence really takes off," said Kansas History magazine editor Virgil Dean. "That's when you see a lot of the grand old homes being built in what's now Old West Lawrence as well as substantial blocks of downtown being developed.
"Lawrence was ready to prosper," he said.
But the good times didn't last. The city's efforts to attract a railroad hub fizzled, and the region's economy went through major recessions in 1875 and again in 1893. The 1903 flood wiped out much of North Lawrence.
"By 1904, Lawrence had gone through 30 years of some pretty slow growth," said Steve Jansen, former director of the Watkins Community Museum of History. "In 1870, the population was about 8,300; by 1900, it was 10,500. That's not much growth."
Kansas University, then in its 38th year, wasn't much help.
"It wasn't the centerpiece back then that it is now," Jansen said. "It was thought to be in a terrible location -- distant, on top of a hill, dirt roads."
He added, "We tend to forget that for half its history, KU was a glorified preparatory academy that people saw as being hard to get to. It was slow-growing."
Mud and manure
Lawrence's dirt streets and roads were infamous. When it rained, most were impassable.
"In her diary, (Lawrence resident) Elizabeth Duncan wrote that back in 1864 she couldn't get to church 'on more than one occasion' because it was so muddy," said Lawrence historian Katie Armitage. "She was a very devoted Methodist and for her to miss church was very significant."
At the time, Duncan lived in a brick house at 11th and Massachusetts streets. The Methodist church was in the 700 block of Vermont Street -- roughly four blocks away.
"In those days with horses and wagons and the mud being what it was, I can imagine how difficult it must have been, especially if you were wearing a long dress," Armitage said.
It wasn't unusual, she said, for Lawrence schools to cancel classes due to mud.
"Things didn't get substantially better until the turn of the century," she said. Lawrence installed its first paving stones by the turn of the 20th Century.
Another often-forgotten headache from Lawrence's first 50 years: manure.
"The smell in Lawrence back then would probably knock us off our feet today," Gridley said.
Not only did most residents have horses, they also had milk cows, chickens and an occasional pig. Outhouses, too, were the norm.
"Living in the city wasn't all that pleasant of an experience," Gridley said.
Copyright 2018 The Lawrence Journal-World. All rights reserved. This material may not be published, broadcast, rewritten or redistributed. We strive to uphold our values for every story published.