The city of Lawrence was founded on a political idea. Eli Thayer, a member of the Massachusetts Legislature, proposed that the Kansas Territory be filled with free men "who hated slavery and who would drive the hideous thing from the broad and beautiful plains where they were going to raise free homes." He drew up a charter for what was called the Massachusetts Emigrant Aid Company.
Leaving Boston on July 17, 1854, the first group of settlers heading for what is now Lawrence got a rousing sendoff. Their arrival in Kansas was not so warm.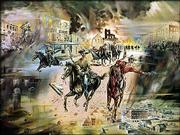 Gathered from all parts of the New England states, the settlers leaving the station were sent off by cheering crowds lining the tracks. They journeyed westward across New York, and they were cheered at nearly every stop.
They crossed Lake Erie on the steamer "Polar Star." In a week, they were in St. Louis. Three days later, the group arrived in Westport, in Kansas City, Mo.
From there, their directions read:
"Proceed through the Shawnee reservation and select the first eligible site south of the Kansas River."
They reached the site that would become Lawrence on Aug. 1, 1854, and camped on Mount Oread.
A second party of settlers arrived by Sept 15. On Sept. 18, 1854, the Lawrence Assn. was formed. On that date, the town site, named (for Amos Lawrence) and city constitution were adopted.
This is the first of three special sections the Journal-World will publish to commemorate the city's sesquicentennial. Look for the other sections Sept. 26 and Oct. 3.
Less than a decade after the city was founded, it would be burned and looted in Quantrill's raid and given the challenge of rising again.
Copyright 2018 The Lawrence Journal-World. All rights reserved. This material may not be published, broadcast, rewritten or redistributed. We strive to uphold our values for every story published.