Ed Bishop ate a slice of white cake Saturday in South Park and remembered the first time he saw Lawrence throw a citywide birthday party.
The year was 1929, and Lawrence was a mere 75 years old. Bishop, who was only 9, described seeing a soldier shooting off blanks from a balcony of a downtown bank building.
"I think he might have had a machine gun," Bishop said.
When the Sesquicentennial Parade ended Saturday, Bishop and many of the thousands who watched it converged on South Park, where the city's 150th birthday celebration continued.
Sesquicentennial event volunteers cut squares of cake and handed them out to a long line of party-goers. They had hoped to be able to get about 2,000 pieces out of about 30 cakes donated by Dillons and six by Lawrence Memorial Hospital.
"We're half-way through," said Cecilia Mills after about 90 minutes of cutting cake. "We started with the KU band."
Jason Botz, Lawrence, ate his piece of cake along with his children, Nicholas, 2, and Andrew, 5. All three wanted to go back for more.
"This is really good," Jason Botz said as he looked toward the long line that by then had formed at the cake tables. "We must have got here early."
After eating cake, parents gathered around the William Kelly gazebo, where the Lawrence City Band put on a birthday concert. Children, meanwhile, participated in various games throughout the park.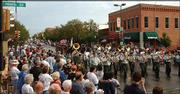 Nathan Koehn, 6, took his turn at a trampoline broad jump and then told his mother, Sheena Koehn, he was ready to go again.
"This is something we'll always have memories of," Sheena Koehn said. "The kids will long remember this, and it's good to see other families and the older people who are here."
Also taking place were pie-eating and beard contests.
Bishop not only attended the city's 75th birthday party, he also went to the 1954 centennial celebration. In fact, before going downtown Saturday he dug out a centennial pin he wore 50 years ago and put it on his hat.
"I had to have this then because I didn't have a beard," said Bishop, a retired Kansas University employee. "I've never had a beard. If you didn't have a beard then you needed it (pin) to keep from getting 'arrested.'"
Copyright 2018 The Lawrence Journal-World. All rights reserved. This material may not be published, broadcast, rewritten or redistributed. We strive to uphold our values for every story published.