King George still can't decide what color to use.
"Well, I could do green," he says, rubbing the soft plastic of the downtown barber shop's aprons. He's been in the waiting room for an hour, trying to decide how to paint the "Da Shop" logo on the slick material.
Janine Colter, the owner of the barber shop and salon, isn't sure the paint -- whatever color -- will even stick.
"Can you do this?" she asks the king, who is rubbing the thick gray curls of his beard.
"I'll try," he says.
But King George, a retired painter who now runs his own spray-paint design company and won't tell anyone his real name, is far from the only one in Da Shop at 1 o'clock in the afternoon.
The black-owned business at 1109 Mass. is filled with people. Some sit, reading magazines or eating a quick lunch, finding air-conditioned refuge from the heat. Some chat, catching up on family and friends.
But almost everyone waits for Nellie.
Tim Nelson -- Nellie -- commands a following.
"I see everyone," Nelson says, snipping away at a young customer's hair. "From the KU basketball team to drug dealers to preachers to doctors. Everyone needs their hair cut."
Devoted customers
For the most part, when Nelson says everyone, he is referring to Lawrence's small but close-knit black population, which amounts to just more than 5 percent of the 80,000 people in the city, according to the 2000 census.
And although other places in Lawrence, including schools and churches, serve as community centers, Da Shop and its employees have a following just as dedicated.
For Nelson, that means seeing a lot of familiar faces.
Everyone who walks in greets the tall, corn-rowed barber with a handshake or a fist-pound, a "What's going on?" or "How's your family?"
Nelson has worked with many of his patrons since the shop's inception in 1999.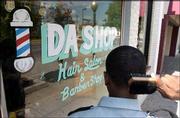 Like Ryan Murphy, the young man in the chair now. Before Da Shop opened, the Free State High School sophomore had to have his father cut his hair.
Now, after years of getting familiar with each other, neither Nelson nor Murphy has to discuss what kind of cut the young man wants.
"Shadow?" Nelson says.
Murphy replies, "Yeah."
"Keep the sideburns?"
Murphy gives a subtle nod.
And knowing their customers means more than simply knowing what kind of haircut they want, Colter says. It means knowing their jobs, their hobbies, their favorite sports and unique skills.
'Black country club'
Much of what happens around the shop happens because Nelson and Colter use their patron's skills to help the shop succeed.
Take a look over there, in the room with the hair dryers. There's a mural on the wall behind the dryer chairs depicting three black women sitting, drying their hair.
Torren Thomas, a School of Fine Arts student at Kansas University, painted the mural after Colter learned of his artistic ability.
"I used to get my hair braided from her. She asked me to do the mural, and I thought it was a good opportunity to paint," Thomas said.
King George found work the same way. One day he's getting his hair cut; the next he's designing the shop logo.
"It's where a majority of blacks hang out," Thomas said. "It's become a meeting place for a lot of talented people in the community."
Colter says the community is drawn to the shop because it offers a service blacks can't find anywhere else in the area.
"I always had to leave Lawrence to take care of me," Colter says. She says she opened the shop so people, including herself, wouldn't have to drive to Kansas City or Topeka to get their hair done.
"If I live here and work here," Colter says, "I should be able to spend my money here."
So, day after day, familiar faces turn up at Da Shop to get their hair done, or maybe just say hello to friends or family. Chris Coleman, a Lawrence resident and Da Shop customer, calls it "the black country club."
Colter calls it an exercise in fellowship for a growing community.
Stories of old times
In walks Verner Newman, a former Lawrence Police captain. He waits for Nelson in Da Shop's front room.
"Oh, here he is," Nelson says. "Ask this guy for some stories."
Newman is the kind of customer Nelson talks about, the kind who comes in, sits for hours, tells kids stories of how life in Lawrence used to be.
When Newman started at the Lawrence Police Department in October 1954, he says, he was the only black officer on the force. He retired in 1980.
Newman slides into the barber's chair. Other customers, young and old, wait around the entrance.
Newman tells his stories. He tells stories of life in Lawrence when there were less than 100 blacks in the city. He tells stories of racism and inequality. Stories of pride and hope.
"Now," Newman says, "there are plenty of black students living in Lawrence. It wasn't like that when I was young."
For a moment, Nelson stops clipping and listens.
"Before this place, they didn't come down to meet and greet with the local blacks like they should. But now," Newman says, "they have the barber shop."
Copyright 2018 The Lawrence Journal-World. All rights reserved. This material may not be published, broadcast, rewritten or redistributed. We strive to uphold our values for every story published.