For Fred Winter, today's Sesquicentennial Parade is more than a trip down Massachusetts Street. It's a trip down memory lane.
During the past year, Winter has spearheaded an effort to re-create a float he rode on as a Cordley School kindergartner in Lawrence's 1954 Centennial Parade.
"Riding on that float was one of my fondest childhood memories," Winter said. "I thought, 'Wouldn't it be great if I could re-create that experience for another group of kids, and then maybe they could share it with somebody else 50 years from now?'"
The original float, sponsored by Weaver's department store, was designed to honor schoolchildren, Lawrence's "Greatest Crop." The float featured a large basket from which nearly 20 5-year-olds waved to throngs of cheering spectators. Winter's family was close to the Weaver family, so his kindergarten class was selected to fill the basket.
Winter, who now lives in Taos, N.M., got the idea to reincarnate the float of his childhood memory last year during a visit to Lawrence. He secured funding for the float from Peoples Bank, and hired Jim Dittmer, who runs a float-building company in Independence, Kan., to re-create it from an old picture Winter's mother had found.
"It was really a ball to build," Dittmer said. "I'm kind of a historical buff, so this was a fun project for me."
The 2004 version of the "Our Greatest Crop" float features some improvements over its 1954 predecessor. Namely, Dittmer added a sesquicentennial logo and a large back deck.
A new group of children from Cordley will fill the basket in this year's float, but Winter will join three of the other 1954 participants on the back deck.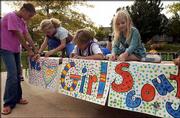 Winter's float will be one of 100 in the parade entered by groups from all walks of Lawrence life.
Junior Girl Scout Troop 625 and Brownie Troop 485 put the final touches on their float Friday evening at the home of Junior Troop leader Cheryl Hughes in west Lawrence.
Eleven-year-old Scout Kim Carter said she was excited to be playing a part in the landmark day.
"It's like, Lawrence has been around for 150 years, and I actually get to be a part of that," she said. "So that's really cool."
Bob Foster, parade coordinator for the Sesquicentennial Commission, said the parade might draw as many as 20,000 spectators, which would be among the biggest downtown parade crowds since 60,000 people watched a 1988 parade featuring the NCAA champion Kansas University basketball team.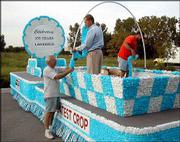 "I think that could easily happen," Foster said, "for no other reason than this parade crosses so many segments of the community. This parade is a really wonderful representation of a cross-section of the community."
Copyright 2018 The Lawrence Journal-World. All rights reserved. This material may not be published, broadcast, rewritten or redistributed. We strive to uphold our values for every story published.