They have larger-capacity ammunition clips and military-style features such as flash suppressers or mounts for a bayonet.
Cabela's may end up carrying some if customer demand is high enough. A Lawrence hunting-supply store on 23rd Street probably won't.
Assault weapons -- a controversial group of semiautomatic guns outlawed for the past 10 years -- became legal again Monday as U.S. lawmakers allowed a Clinton-era ban to expire.
Douglas County Sheriff Rick Trapp and U.S. Rep. Dennis Moore, D-Kan., were among those expressing concern about the lapse of the assault weapons ban; others applauded the change.
Gun sellers and manufacturers said they weren't expecting an immediate surge in orders for the weapons. But at least one Lawrence shopper, a man who said he was a bodyguard, was in Hacks Outfitters, 941 E. 23rd St., inquiring about the end of the ban, co-owner Susie Hackathorn said. Her husband, John Hackathorn, said the ban's expiration was good because it would cut down on illegal gun trading.
Police outgunned?
But for reasons he declined to explain for publication, Hackathorn said he didn't plan to start stocking the guns in his store.
"If they want the gun, they can order it and they pay up front," he said. "We'll get it for them and they'll have to wait for it, but I'm not going to carry those types of weapons."
Trapp, a Republican, said he didn't see any sporting value to the kind of weapons now allowed.
"Although there were certainly some loopholes in the law that could have been tightened down, I would rather have that happen than the ban go off completely," said Trapp, a former FBI agent. "Hopefully there won't be any dramatic increase in violence, but it seems like it will certainly make it easier for criminals to get those sort of guns."
Across the nation, law-enforcement officials -- who have credited the ban with helping drive the crime rate to record-low levels in the past decade -- say police will once again be outgunned by criminals.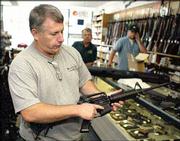 Ban's history
President Clinton signed the legislation in 1994 in hopes of removing firearms designed for warfare from America's streets.
The federal law applied to 19 semiautomatic weapons, which fire one round and automatically load each time the trigger is pulled. The ban included guns such as the TEC-9 and Colt's civilian version of the military M-16 rifle. Under the ban, guns could not have two or more of the following features: a collapsing stock, pistol grip, flash suppresser, bayonet mount or grenade launcher.
Despite the urging of many big-city police chiefs and gun-control advocates, there was little political will to keep the ban in place this year.
Enacted with a sunset clause requiring its renewal after 10 years, the law was doomed last week when Republican leaders in Congress took a pass on action to keep it alive.
Congressman Moore, whose district includes eastern Lawrence, said it was an "abuse" of power for House Majority Leader Tom DeLay to not bring the bill for a vote.
Gearing up for business
"I've heard from police officers. They don't want people having the capability of shooting 20 or 30 or 60 shots at them," Moore said Monday. "I don't believe we need these kinds of guns on the street or in people's homes."
President Bush said he would support keeping the ban in place if Congress sent him legislation to renew it, but the White House did not take any public initiative on the issue.
With the ban lifted, gun makers easily will begin adding features that had been prohibited to guns. Industry officials say because of a grandfather clause that allowed weapons manufactured before the ban to be sold and traded, it will not greatly change the availability of assault weapons.
Still, gun manufacturers have been gearing up for a wave of business. They're offering promotional coupons online for extras such as free flash suppressers and boxes of high-capacity, 15-round magazines.
Cranking them out
The industry has called the ban a farce because the weapons it prohibited did not pose a threat to public safety, and supplies of the weapons already manufactured remained in the marketplace because of the grandfather clause.
Still, the Consumer Federation of America, which pushes for more gun regulation, reported earlier this month the gun industry was "chomping at the bit" with marketing plans geared toward the ban's expiration. It predicted assault weapons would become "more lethal and less expensive."
Joe Arterburn, a spokesman at the Nebraska headquarters of Cabela's outfitters, said the company hadn't decided whether to add post-ban models to its inventory, but it is expecting to see them added to manufacturers' lines.
"We'll take a look at the situation and determine if customer demand is there," Arterburn said. "We'll continue to promote the safe use of firearms no matter how they're designed."
Workers at the ArmaLite Inc. factory in Geneseo, Ill., are preparing to start churning out military-style rifles with 30-bullet magazines instead of the maximum 10 rounds previously allowed.
ArmaLite owner Mark Westrom said Friday there was no question he'd stop using the smaller magazines.
"That's what the market requires," said Westrom, who has been singled out for criticism by the gun-control lobby in recent months because he started taking paid orders early for guns that have been illegal under the ban. He said he would begin assembling the unrestricted guns today and shipping them later this week.
Local reactions
Mike Nickels, a Jefferson County hunting guide, said he saw no reason for the gun ban to be extended. He said he thought data on the issue was confusing, but he doubted many crimes were committed with assault weapons.
"There are not very many criminals who want to be sneaking around at night with an assault rifle committing the crimes they are going to commit," Nickels said.
Kristi Pankratz, a spokeswoman for the Topeka Police Department, said her department didn't take stances on political issues such as the gun ban. The Lawrence Police Department has made a similar statement in the past, though no one from the department could be reached for comment Monday.
Nancy Boyda, a Democrat seeking to oust U.S. Rep. Jim Ryun in Kansas' 2nd Congressional district, said she opposed expiration of the ban.
"I'm a moderate, common-sense woman, and I believe in responsible gun ownership," she said. "I don't believe a moderate, common-sense approach is to allow assault weapons in the 2nd District of Kansas."
Calls to Ryun's Washington, D.C., office and to the campaign of Kris Kobach, a Republican challenging Moore in the 3rd Congressional District, went unreturned Monday.
---
Journal-World wire services contributed to this story.
Copyright 2018 The Lawrence Journal-World. All rights reserved. This material may not be published, broadcast, rewritten or redistributed. We strive to uphold our values for every story published.