Pinar del Rio, Cuba — Packing ferocious winds and whipping up monstrous waves, Hurricane Ivan's eye brushed Cuba's sparsely populated western tip as a treacherous Category 5 storm -- the most powerful -- and barreled north toward the U.S. Gulf Coast.
Ivan, one of the strongest storms on record, hammered Grand Cayman with wind gusts up to 200 mph before reaching Cuba. The storm has killed at least 68 people across the Caribbean and threatens millions more in the United States.
The wall of Ivan's eye clipped the tip of Cuba about 6:45 p.m. as it moved through the Yucatan Channel on its way to the Gulf of Mexico, the island's top meteorologist reported. The slow-moving storm, carrying 160 mph winds, has U.S. residents from the Florida Panhandle to Louisiana preparing to flee the Gulf Coast.
The hurricane hit Cuba hours after President Fidel Castro stopped to discuss preparations in Pinar del Rio city.
Castro vowed not to accept any hurricane aid from the United States. "We won't accept a penny from them," the Cuban leader said.
"The hurricane before this they offered $50,000, an insignificant amount," he said referring to aid the U.S. government offered after Hurricane Charley. "Even if they offered all that was necessary -- $100 million, $200 million, we would not accept. We can recuperate on our own."
Despite Castro's bravado -- residents said they feared for their lives.
"The wind blew like it was the end of the world," said Odalys Lorenzo, a community official at a shelter in southwest Cuba. With Hurricane Charley, people thought they would lose all their possessions, but "with this one, they were afraid of losing their lives," he said.
Ivan swirled toward cropland that produces Cuba's famed cigars, a region still recovering from the effects last month of Hurricane Charley. About 1.3 million Cubans were evacuated from particularly vulnerable areas.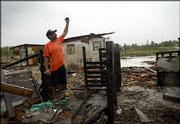 The tobacco crop -- the country's third-largest export -- was safe, according to top grower Alejandro Robaina.
Tobacco planting doesn't begin until next month, and what remains of the January harvest are protected in curing houses.
"I think we are going to escape the worst of it," Robaina told The Associated Press.
At 10 p.m. CDT, Ivan was about 40 miles west-northwest of western Cuba.
Copyright 2018 The Associated Press. All rights reserved. This material may not be published, broadcast, rewritten or redistributed. We strive to uphold our values for every story published.