Combines have begun to roll through what is expected to be Douglas County's best corn crop.
Bill Wood, agriculture agent with K-State Research and Extension-Douglas County, said he had heard some early reports of corn yields of 160 bushels per acre, which would be more than double last year's average yield of 79 bushels per acre. It also is well above the county's five-year average of 92 bushels per acre.
"We're going to stomp all over that (average)," Wood said Monday. "I've known all summer that farmers have been saying that this corn looks to be the best ever. I'm expecting this to play out as a record corn crop."
State agriculture officials are predicting a record corn crop as well with a statewide average yield expected to be 145 bushels per acre.
Gerald Dwyer, a rural Lawrence farmer, thinks the crop has a chance to be extraordinary. He said he thought there were many fields that would produce yields of at least 190 bushels per acre.
"Compared to the past few years, that's about two or three harvests put together," Dwyer said.
A strong corn crop could give area farmers a solid financial year. The county had an above-average wheat crop that was harvested this summer. Wood said the soybean crops, which will be harvested in October, had a chance to be "tremendous." It could be the first year since 1998 that area farmers have had good results from all three crops.
"It has been rough the last couple of years, so this would be a big plus," Wood said.
Dwyer said the harvest would be a good opportunity for area farmers to pay down debt they had taken on to carry them through the recent lean years.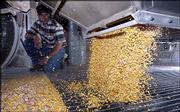 "This is the type of harvest that can definitely make you feel better," Dwyer said. "But we'll need to use it to patch up some wounds that we've suffered over the past few years. As far as spending goes and buying new equipment, I'm not sure a lot of us will do that because we're still trying to play catch up."
The harvest may be so large that area farmers and grain elevators will have difficulty finding storage.
"It will definitely get tight," said Chris Hetherington, a manager at Ottawa Co-op's south Lawrence elevator. "We'll just keep trucking it out, but during a big harvest there's just not enough trucks out there."
Wood said storage might become a problem, in part, because the grain elevator in Eudora is closed. The owner of the elevator closed it before last year's fall harvest, but storage was not an issue because of the small harvests.
"This year that will put a crimp in things," Wood said.
"There probably will be a lot of farmers looking at cleaning out a machinery shed and dumping some grain in there."
Copyright 2018 The Lawrence Journal-World. All rights reserved. This material may not be published, broadcast, rewritten or redistributed. We strive to uphold our values for every story published.